Warning: This product is not currently available at any store.
Click the button above and PricePlow will email you when the first store has it in stock!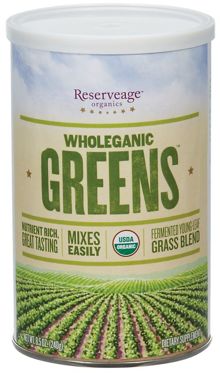 ReserveAge Wholeganic Greens
Not All Greens are Created Equal
Our wholesome and organic greens superfood blend is crafted with a highly concentrated premium blend of certified organic greens. Our greens are milled into a fine powder for easy mixing. Our formula offers an easy and nourishing solution for incorporating high-alkaline plant superfoods in your daily diet.*
Nutrient-Rich Formula
We're serious about greens. Our formula contains no fruit extracts or unnecessary fillers such as soy lecithin. Each concentrated scoop of our wholesome greens is loaded with 5 grams of chlorophyll-rich certified organic chlorella, spirulina and young whole-leaf grasses, which are harvested when the plants are at their peak.*
The Power of Fermented Greens
Our organic grass blend of high-quality barley, wheat, oat, and alfalfa is fermented to unlock naturally occurring antioxidant phytonutrients.*
No artificial sweeteners, flavors or colors, soy lecithin or other fillers, GMO ingredients, filler fruit extracts, soy, gluten or dairy.
Fermented Young-Leaf Grass Blend
Nutrient-Rich
Great Tasting
Mixes Easily
USDA Organic