Quick Links to Best Prices Price History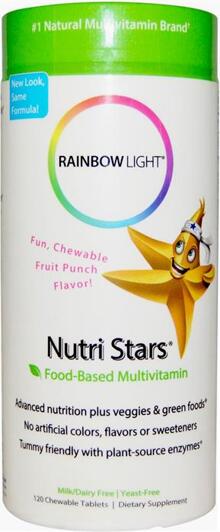 Rainbow Light NUTRI STARS Chewable Multivitamin
100% Natural, No Refined Sugar
Wholesome Vegetables & Green Foods
Plant-Source Digestive Enzymes
Great-Tasting, Chewable Multivitamin for Children Naturally Sweetened with Fructose
Complete Multivitamin Protection with nutrient rich antioxidants essential to your childs health in todays challenging environment.
Wholesome Vegetables & Green Foods, often missing from kids diets, support growing minds and bodies.
No Refined Sugar. 100% natural formula is sweetened with fructose, a fruit sugar scientifically proven to have a minimal effect on blood sugar.