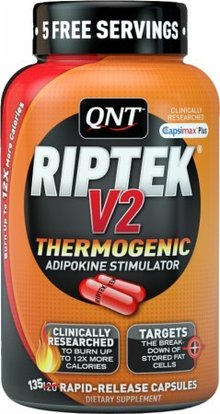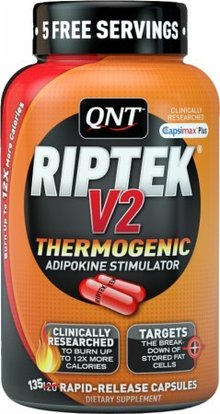 European Fat-Loss Technology
Riptek V2 combines the latest European and American fat burning technologies and starts working from the first time that you take it!
As soon as you consume the first dose of Riptek V2 you will feel an immediate burst of energy, along with a rise in your core body temperature as Riptek V2 starts to promote burning body fat from the inside out by increasing your metabolic furnace naturally by 12 times over normal!* In addition, Riptek V2 has agents that not only break down the body fat and burn it for energy but may also help reduce fat storage!*
Unlike some fat burning products, Riptek V2 is won't make you jittery or nervous and it doesn't promote the energy crash that some formulas on the market may cause.* The reason for this is because Riptek is not only a timed released formula, but is also lower in stimulants that at the end of the day can leave your adrenal gland system burned out, resulting in a subsequent thyroid slowdown (something that may lead to weight gain and lack of energy after you stop using the product).*
The only stimulant in Riptek is a sensible dose of caffeine added for its support for fat burning, endurance, alertness and a healthy appetite level.*
Increases Metabolism By 12 Times Over Normal
The key to Riptek's metabolic boosting ability is a revolutionary ingredient called Capsimax. Capsimax is a special red pepper extract that some studies suggest, may have the incredible ability to increase the metabolic rate by up to 12 times over normal before, during and after exercise.* These studies not only suggest that the subjects using Capsimax burned more calories for energy, but they also experienced greater oxygen uptake and greater air-flow through their lungs.* So even though they were training harder and burning more calories than ever, the active compound in Riptek made it feel easier!*
Supports Fat Breakdown While Promoting Energy Production*
Riptek V2 supports the breakdown of body fat even more than our previous version of Riptek due to our addition of Rhodiola Rosea.* Bulgarian researchers have surmised that intake of this herbal supplement helps activate hormone-sensitive lipase, which plays a key role in breaking down the fat stored in adipose tissue.* Previous Soviet clinical studies suggested that the combination of Rhodiola together with physical exercise can be a powerful tool in the activation of fat-tissue lipase, resulting in the accelerated breakdown of stored fat!* Georgian clinical data suggested that the intake of Rhodiola rosea extract by overweight subjects led to an 11% reduction in fat.* In a control group, in contrast, the weight change was insignificant. In addition, Rhodiola has the same adaptogenic and energy producing properties as Ginseng.*
Reduce the Ability to Store Body Fat*
Riptek V2 may also reduce the body's ability to store fat and inhibits the growth of new fat cells.* It does this thanks to the blend of purple corn, acai berry and revestarol, which has been suggested to reduce fat storage and to support your metabolism.* As a matter of fact, in a 12 week study where mice were fed a fatty diet and allowed to eat as much as they wanted, the mice that were not fed purple corn gained weight but the ones that had the purple corn as part of their diets did not!*
Increases Energy While Supporting A Healthy Appetite*
Finally, Riptek V2 supports increased energy so that you can perform better at the gym and avoid the low energy caused by dieting via the use of some caffeine in combination with rodiola.* In addition, Riptek helps to suppress appetite via the use of berberine, caffeine and glucomannan (which promotes feelings of fullness).*
Hours of Enhanced Metabolism, Fat Burning and Healthy Appetite Support with No Energy Crash*
Knowing how some formulas make you crash as soon as the effect wears off, we designed Riptek V2 to be a timed release formula that lasts in your system for hours and does not promote a crash.* What makes Riptek V2 have these properties is a natural ingredient called Piperine. Piperine is the alkaloid responsible for the spiciness of black pepper. By inhibiting ingredient metabolism, piperine increases the bioavailability and absorption of all the other compounds in the formula thus promoting their potency and the time that they stay in the body!*
If You Are Looking To Simplify Your Weight Loss, No Need to Look Further!
If you are following the right diet along with the right exercise program, adding Riptek V2 to your program is a great way to incinerate the excess fat in your body!* This is one of the only fat burners that focuses on natural ingredients to support your metabolic rate and break down body fat; thus not only making it a safe fat burner but one that will support weight loss without the side effects associated with high stimulant fat burners such as irritability, jitteriness, adrenal gland burnout, depressed energy levels and decreased thyroid function.*
Don't hesitate to start burning your body fat and increasing your metabolism today by adding Riptek V2 to your program!*