Warning: This product is not currently available at any store.
Click the button above and PricePlow will email you when the first store has it in stock!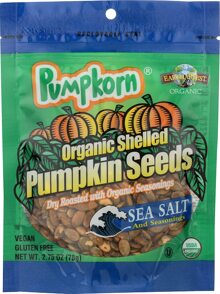 Organic Shelled Pumpkin Seeds
Dry Roasted with Organic Seasonings
Pumpkin seeds are a truly remarkable food, valued around the world for theirnutritive qualities and delicious taste. They are a great source of essentialfatty acids, electrolytes, and minerals including zinc, iron, potassium, copper,and magnesium. Pumpkin seeds are also high in protein and low in carbohydratesmaking Pumpkorn one of the most nutritious snacks available.
Pumpkorn is made from speciallyselected organic pumpkin seeds that are hulled and dry roasted in small batches,then seasoned to perfection with organic seasonings. Inaddition to being an excellent snack, Pumpkorn is great on soupsand salads, in rice, grain dishes, as shake/bake coatings, even in desserts (likeFlax 'n' Honey or Dark Cocoa on ice cream or yogurt).