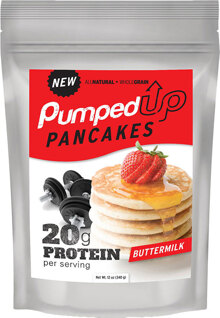 Pumped Up Pancakes Buttermilk Pancake Mix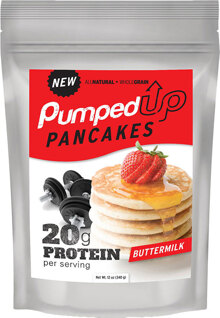 Pumped Up Pancakes Buttermilk Pancake Mix
High Protein Pancake Mix
Whey
Protein
Isolate
5 Grams
Fiber Per
Serving
No
Added
Sugar
20g PROTEIN


per serving

ALL NATURAL
WHOLE GRAIN
JUST ADD WATER
QUALITY
The only protein source we use in Pumped Up Pancakes is whey protein isolate, which is considered the highest quality protein available. Due to this quality, you won't experience that "protein aftertaste" you get with many other products.
CONVENIENCE
Pumped Up Pancakes are specially formulated so you just add water. Unlike many other pancake mixes, you don't have to worry about adding eggs, milk, or oil.
VERSATILITY
Pancakes are just the beginning. You can use Pumped Up Pancake mix to make high protein waffles, post workout shakes, muffins, breads, and cookies.