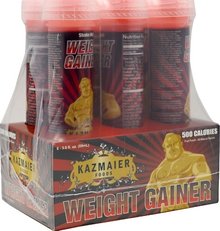 Protica Weight Gainer Shot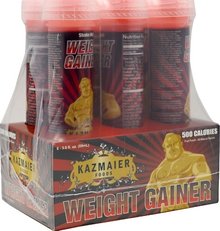 Protica Weight Gainer Shot
Weight Gainer is the smallest, most balanced ready-to-drink weight gaining product on the market, from legendary three-time World's Strongest man, Bill Kazmaier.
Weight Gainer delivers a staggering 500 calories, plus two full servings of fruits and vegetables, and a complete spectrum of 27 vitamins and minerals-all in just over 3 fluid ounces.

Supplement Facts:

Serving Size: 3 fl oz
Servings Per Container: 1

Amount Per Serving
Calories 500
Calories from Fat 150
Total Fat 17g 26%
Saturated Fat 1g 5%
Trans Fat 0g
Cholesterol 0g 0%
Sodium 64mg 3%
Potassium 31mg
Total Carbohydrate 37g 12%
Dietary Fiber 5g 20%
Sugars 5g
Protein 50g 100%
Vitamin A 150mcg 10%
Vitamin C 60mg 100%
Vitamin D 1mcg 10%
Vitamin E 2mg 10%
Vitamin K 8mcg 10%
Biotin 30mcg 10%
Chloride 250mg 10%
Chromium 12mcg 10%
Copper 250mcg 10%
Iodine 30mcg 10%
Magnesium 50mg 10%
Manganese 500mcg 10%
Molybdenum 7mcg 10%
Niacin 2mg 10%
Pantothenic Acid 1mg 10%
Selenium 7mcg 10%
Zinc 2mg 10%
Riboflavin 170mcg 10%
Thiamin 150mcg 10%
Folic Acid 40mcg 10%
Inositol 30mg 10%
Choline 80mg 10%
Taurine 30mg 10%
Cobalamin 1mcg 10%
Pyridoxine 200mcg 10%

Ingredients: Pure deionized water, Actinase [patent pending blend of enzymatically hydrolyzed (predigested) collagenic protein isolate, whey protein isolate (milk) and casein protein isolate, whey protein isolate (milk) and casein protein isolate (milk)], sunflower oil, fruit and vegetable concentrate (pear, pumpkin, strawberry, broccoli, tomato, carrot, spinach, kale, brussel sprout), cane sugar, amino acids (Proprietary blend of tyrosine, Leucine, lysine, isoleucine, tryptophan, Threonine, Methionine, and valine), malic acid, Vitamins and Minerals [Calcium (calcium Gluconate monohydrate), Choline (Choline bitartrate), Manganese (manganese Gluconate), Copper (copper Gluconate anhydrous), Vitamin A (Vitamin A Palmitate), Iodine (potassium Iodide), Chromium Picolinate, Vitamin K, Molybdenum (sodium Molybdate), Selenium (l-selenomethionine), Vitamin D3, Phosphorus (potassium phosphate), Chloride (sodium chloride), Potassium (potassium Chloride), L-Carnitine], natural flavors, cellulose gel, soy lecithin, sodium bicarbonate, Acesulfame-potassium, Sucralose, red 40, yellow 6, blue 1.
Contains No Preservatives.
Directions: Take up to 3 vials daily, or as directed by your healthcare professional. Enjoy at any temperature. Refrigerate after opening.
Note: Manufacturers continually change product specifications. While we try our best to keep product descriptions up to date, they do not necessarily reflect the latest information available from the manufacturer. We are not responsible for incorrect or outdated product descriptions and/or images.

These statements have not been evaluated by the Food and Drug Administration. This product is not intended to diagnose, treat, cure, or prevent any disease.