Quick Links to Best Prices Price History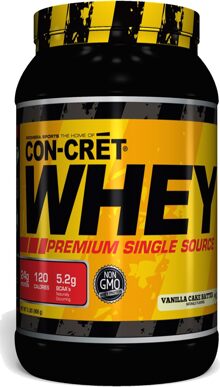 CON-CRĒT WHEY is a best-in-class, complete and unadulterated premium whey protein concentrate (WPC). Our protein source is both non-GMO and growth hormone free (rBGH). Our high quality whey protein concentrate is popular because it is one of the fastest digesting protein sources available, making it highly functional for active individuals who want a quick absorbing whey protein that's natural and delicious.*
CON-CRĒT WHEY is packed with 24 grams of Protein, 5.2 grams of naturally occurring branch chain amino acids (BCAAs), loaded with essential amino acids (EAAs) and is only 120 calories.
Who Uses CON-CRĒT WHEY?
Individuals that train and exercise find that the metabolic demand for protein may increase by more than 300% compared to those that are sedentary. If you are one of these people you will find it difficult to consume enough protein on a daily basis to meet your increased need for nitrogen. Hence, CON-CRĒT WHEY makes it possible to supplement this increased need for protein.
Why Choose CON-CRĒT WHEY?
Amazing and Delicious Taste
Naturally Flavored Product
Non-GMO Protein Source
Gluten Free
Instantized for Fast Absorption*
Cold Process Micro-Filtrated
Highly Soluble
High in BCAAs and EAAs
GREAT TASTING FLAVORS