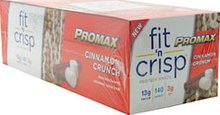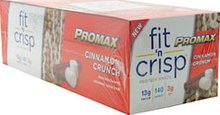 Protein Packed Crispy Snack
This new snack satisfies your sweet tooth while providing the energy you need to keep you fueled between meals. With 13 grams of muscle-replenishing protein, only 140 calories and a light crispy texture, Promax Fit 'n Crisp is a guilt-free reward; whether it's a 4 o'clock snack or an after workout treat.
Promax Fit 'n Crisp bars are peanut free, vegetarian, and contain no artificial sweeteners or flavors, high fructose corn syrup, maltitol, or gelatin.
All the proteins in Promax Energy Bars (soy, whey, and milk casein) are complete proteins, which contain all nine amino acids that are the building blocks of every structure in our body and have the highest Protein Digestibility-Corrected Amino Acid Score (PDCAAS) of 1. The Promax protein blend incorporates fast (whey), intermediate (soy) and slow (casein) digesting proteins to extend the anabolic window to optimize lean body mass gains.*