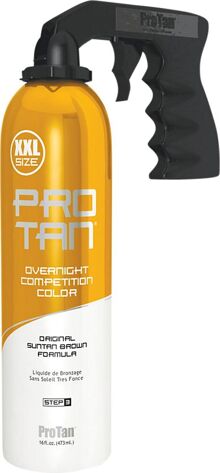 Pro Tan Overnight Competition Color With Spray Applicator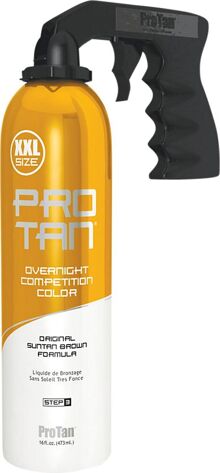 Pro Tan Overnight Competition Color With Spray Applicator
Since 1985, Pro Tan Overnight Competition Color has been delivering the fastest, darkest, most natural looking tan for top bodybuilders, dancers, and models around the world! Simply put... Pro Tan gives you the best looking, long-lasting tan you can get without the sun! You get a deep dark tan within hours, easy brush-on application, guaranteed even coverage, non-streaking color, and it won't interfere with natural or sunbed tanning!
This is probably the most popular product used by competitive bodybuilders to get a great, dark tan! You know you can trust Pro Tan to do what you need it to do. Buy now at wholesale prices from Muscle and Strength!
How to use Pro Tan Overnight Competition:
Apply to clean skin. Spray directly onto sponge applicator, brush over desired body areas with lighter strokes around hairlines, knees, elbows and ankles. You'll get an instant tan, which serves as a guide for even application and will darken considerably in 3-5 hours. Allow 30 minutes to dry before direct contact with clothes or water. Re-apply for a deeper tan. In the morning, shower off the excess color, allowing the natural tan to show.
Tanning Tips: Prior to application; wash entire body with pre-tan scrub for maximum darkness. Apply lotion over knuckles, elbows, wrists and knees to avoid excessive tanning. Use hair dryer over body between applications. Avoid getting on palm of hands.