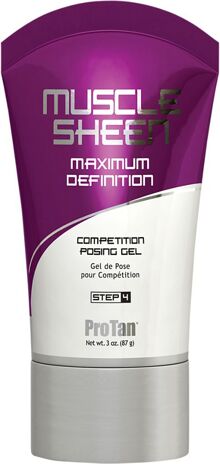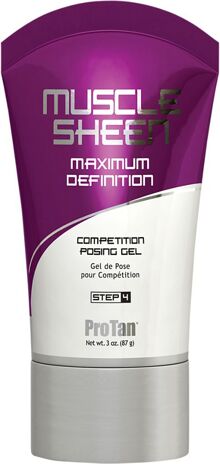 Maximum Definition
Buff your muscular appearance with a smooth sleek sheen look that will blow your competition away. Muscle Sheen, used by champion bodybuilders, contains the finest ingredients. This professional product highlights and enhances appearance of your muscularity, and total hardness.
Pro Tan Muscle Sheen Professional Posing Gel is Used by World Class Bodybuilders. Muscle Sheen Posing Gel glides on smoothly for the perfect sheen under bright, hot lights. Developed for stage lights, leaving your skin with a satin sheen look, perfect for physique presentation!
Vitamin E is a fat-soluble vitamin that exists in eight different forms. Each form has its own biological activity, which is the measure of potency or functional use in the body. It is also a powerful biological antioxidant.
Antioxidants such as vitamin E act to protect your cells against the effects of free radicals, which are potentially damaging by-products of energy metabolism. Free radicals can damage cells and may contribute to the development of cardiovascular disease and cancer. Studies are underway to determine whether vitamin E, through its ability to limit production of free radicals, might help prevent or delay the development of those chronic diseases. Vitamin E has also been shown to play a role in immune function, in DNA repair, and other metabolic processes.
This is a cruelty-free product. Pro Tan does not use animal testing.