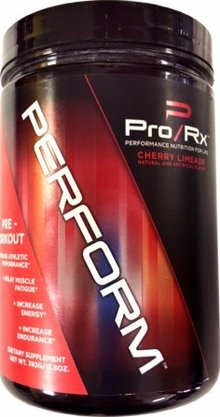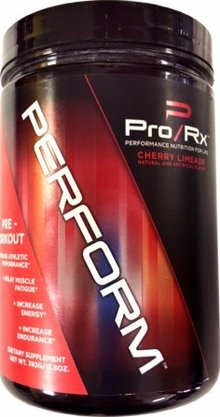 Pro Rx Perform GET READY TO ROCK!!
Imagine if one supplement could do everything to prepare you for the perfect, high intensity workout. It would help dial up your body's strength to its highest level, boost your energy, insanely increase muscle mass and super charge your vascular system.* Within each scoop of Perform is one of the most powerful mixes of pre-workout bodybuilding ingredients found in one product!*
Anti fatigue and Vascularity Complex – Combining beta alanine with the volumizing power of agmatine sulfate and citrulline malate we have created one of the most powerful pump complexes period.* Your entire body's vascular system is turned into a turbocharged pump allowing the muscles to feed off a superhighway of blood flow and nutrients.*
Strength & Recovery Matrix – We combined the raw performance of Creatine Magna Power, Creatine HCL, creatine monohydrate and the incredible recovery benefits of BCAA's in a 2:1:1 ratio to produce a strength complex unlike any other.* PERFORM helps unleash massive amounts of energy and strength greatly increasing endurance and lean muscle mass.*
Intensity & Focus Amplifier – To help boost you to extreme performance, we formulated a turbocharged complex of caffeine, citrus aurantium, hordenine HCL, N-Methyl L-tyramine and choline bitartrate.* The result is a jitter-free explosion of energy that can only be described as awesome!!* GET READY TO ROCK!!
PERFORM Key attributes
Increase energy*
Increase athletic performance*
Delay muscle fatigue*
Increase energy*
Increase endurance*