Warning: This product is not currently available at any store.
Click the button above and PricePlow will email you when the first store has it in stock!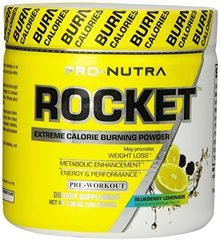 Pro Nutra - Rocket Pre-Workout Extreme Calorie Burning Powder

Pro Nutra Rocket may promote:

Weight Loss

Metabolic Enhancement

Energy & Performance

What is Rocket?
If you're fighting to balance a healthy body, ROCKET is the only ammunition you need! Make this your weapon of choice in fat burning supplements. ROCKET gives you a serious energy jolt to increase the number of calories and amount of fat you burn each day without the crash. Working by increasing the amount of fat released from fat cells so it can be burned for fuel instead, ROCKET is the popular fat loss support supplement and workout performance booster.

Why is it better?
ROCKET is the newest fat burning supplement to hit the shelves. It combines carefully selected ingredients that, according to research, may help to support fat loss. These key ingredients are the double-edged weapon against stored fat and the ultimate combination to support the mobilization and utilization of stored fats, to be used for energy.

What are the benefits?
The fat burning ingredients in ROCKET work synergistically to burn calories. To highlight a few, Yohimbine enhances fat-burning by counteracting the alpha receptors on fat cells, which limit the amount of fat that's released. Releasing fat from fat cells isn't enough. If that fat isn't burned for fuel, it stays in the bloodstream and is stored again. This is why ROCKET added in carnitine. It helps transport the released fat, where it is burned and eliminated. L-Carnitine may help to convert fatty acids into fuel your body can use for energy.

About Pro Nutra
Pro Nutra represents a premier, high-end, diet and energy line built exclusively on meticulous planning and engineered ingredients. Incorporating health, better living and targeted performance goals, ProNutra is a fast paced, doctor reviewed, doctor recommended brand. Built on strong research and high-end ingredients delivered in extremely cutting-edge formulas, Pro-Nutra markets the "Look Better, Feel Better - NOW" approach. Pro-Nutra is a Lucky Vitamin Exclusive brand, distributed only in Lucky Vitamin stores and online at LuckyVitamin.com. With an aggressive branding of a wellness-based, sports performance targeted audience, Pro-Nutra relies on the intelligence of the consumer, the "know how" of the retailer, and the ingenuity of its own device. Pro Nutra deliver "Look Better, Feel Better - NOW" formulas in an all NEW performance activity based setting. Pro-Nutra is the Premier Wellness Performance Brand available anywhere today.

Suggested Use:

Use On Training Days Only. Take one (1) serving (1 scoop) approximately 15-30 minutes prior to training, blended into 6-8 ounces of cold water or beverage, or as suggested by a qualified healthcare practitioner.

Supplement Facts
Serving Size: 1 Scoop (5 grams)
Servings Per Container: 30
Amount Per Serving
Vitamin D3 (as cholecalciferol)
Niacin (as nicotinic acid)
Calorie Burning and Energy Matrix (Proprietary)
Safflower Oil (seed), Coconut Oil (fruit), Avocado Oil (fruit)
[providing Conjugated Linolenic Acid], Carnitine (as L-carnitine
tartrate), Indigofera dupuisii (aerial), Caffeine (as caffeine
anhydrous), Garcinia (Garcinia cambogia) (fruit) [providing
Hydroxycitric Acid (HCA)], Nandina (Nandina domestica) (fruit),
Yohimbe (Pausinystalia yohimbe) (bark).
** Daily Value (DV) not established.
Other Ingredients: Maltodextrin, citric acid, natural and artificial flavors, malic acid, sucralose, acesulfame-K, and FD&C Red No. 40.

Warnings:

Not intended for use by persons under age 18. do not exceed recommended dose. Do not take for more than eight (8) consecutive weeks. This product should not be taken by pregnant or lactating women. Get the consent of a licensed physician before using this product, especially if you are taking medication, have a medical condition, or thinking about becoming pregnant. Keep this product and all supplements out of the reach of children.

Caffeine warning: The recommended serving of this product contains approximately as much caffeine as three cups of coffee. do not consume caffeine, or combine with synephrine, including but not limited to coffee, tea, soda and other dietary supplements or medications containing phenylephrine or caffeine. Too much caffeine may cause nervousness, irritability, sleeplessness, and occasionally rapid heartbeat. Discontinue use if you experience dizziness, severe headache, rapid heartbeat or shortness of breath.

ROCKET contains the B vitamin niacin. Niacin may cause temporary flushing, tingling, skin reddening, and sensation of heat, especially if taken on an empty stomach. This is a common reaction.