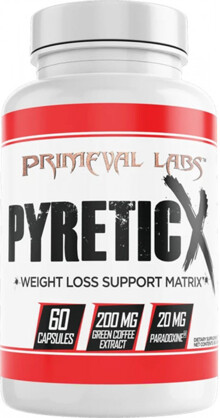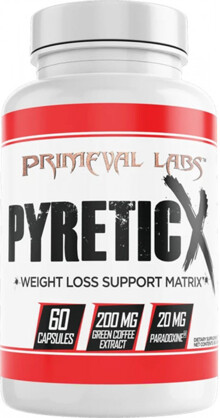 Primeval Labs PyreticX
What is PyreticX?
Pyretic X is a well-rounded thermogenic weight loss supplement formulated to help support increased thermogenesis, greater energy expenditure, and reduced body fat.* When combined with a reduced-calorie diet and exercise program, the ingredients in Pyretic X may help support dietary compliance and calorie burning, thereby promoting more efficient weight loss and better performance in the gym.*
PyreticX Ingredients
Olive Leaf Extract (20% Oleuropein)
Olive leaf extract is rich in numerous bioactive compounds, the most well-known of which is oleuropein.*
Oleuropein is a versatile compound that has been noted in scientific research to possess a wide range of activities, including:*
Antioxidant
Anti-inflammatory
Antimicrobial activity
Anti-atherogenic
Hypolipidemic
Hypoglycemic effect
Oleuropein also stimulates BAT (brown adipose tissue), inhibits PPAR-γ receptor, and suppresses the proliferation of adipocytes (fat cells).* Oleuropein also enhances thermogenesis by increasing uncoupling protein-1 (UCP1).*
Additional research indicates that olive leaf extract supplementation may support better insulin sensitivity and help limit oxidation of LDL ("bad") cholesterol.* Animal studies also indicate that olive leaf extract supports thyroid function.* As you're probably aware, the thyroid gland is critical to proper functioning of the metabolism.*
Green Coffee Extract
Green coffee beans are raw, unroasted coffee beans. They are rich in many pharmacologically active compounds, including chlorogenic acid.* Human studies note an inverse association between coffee intake and weight gain.* Green coffee extract may help reduce body weight and fat mass, possibly due to reducing the amount of carbohydrate taken up by the intestines following a meal.* Researchers have theorized that green coffee extract may modify hormone secretion and glucose tolerance in humans.* Green coffee extract's primary bioactive, chlorogenic acid, appears to increase nitric oxide availability and possess antihypertensive effects.*
Natural Caffeine
Caffeine is the well-known central nervous system (CNS) stimulant widely available in foods common to the diet, including coffee, tea, and dark chocolate.* Caffeine is best known for its ability to increase feelings of mental energy, due to its antagonism of adenosine receptors in the brain.* Regarding weight loss support, caffeine has been shown to help to boost metabolism, increase calorie burning, and enhance lipolysis (the "liberating" of stored fatty acids).* Caffeine further supports weight loss by acting as a mild appetite suppressant, which may help reduce calorie intake at meal time.* Dieting on low calories is also known to lead to feelings of sluggish, lethargy, and a general lack of motivation to train hard.*
Caffeine can help increase energy and motivation due to its ability to stimulate dopamine ("the mood and motivation" molecule) release in the brain, which increases mood, motivation and focus.* Interestingly, dopamine also increases thermogenesis in brown adipose tissue, further increasing calorie burning.
Theobromine
Theobromine is a chemical cousin of caffeine and the principal alkaloid in Theobroma cacao (the cacao bean). It's also found in varying quantities in coffee and dark chocolate.* Theobromine is traditionally used as a bronchodilator and as a vasodilator as well as a diuretic.* Research in animals shows that supplementation with a theobromine-rich cocoa powder encourages significant weight loss.* Anecdotally, theobromine supplies a smoother, subtler, longer-lasting energy that complements the fast-acting energy of caffeine. It's thought that combining the two may help limit the unwanted energy crash that accompanies high doses of caffeine.* This may be due, in part, to theobromine having a longer half-life than caffeine.*
Caffeine Anhydrous
Pyretic X contains an additional 100mg of fast-acting caffeine anhydrous to further increase feelings of enhanced mental and physical energy to complement the smooth energy of Natural caffeine.* In total, Pyretic X contains 253mg of caffeine per full serving (2 capsules).*
Yohimbe Bark (8% Yohimbine)
Yohimbine (pausinystalia johimbe) is a plant native to western and central Africa.* Extracts from yohimbe have long been used in traditional medicine as an aphrodisiac.*The primary active constituent in yohibe, yohimbine, is a prominent weight loss supplement due to its ability to antagonize ("block") alpha-adrenergic receptors, thereby supporting fat burning.*
"Stubborn" fat areas have higher concentrations of alpha receptors and blocking them encourages increased fat-burning in those areas as greater amounts of fat-burning catecholamines (noradrenaline and adrenaline) can then bind to the beta receptors on fat cells.*
Yohimbine has also been explored as a potential ergogenic and body recomposition aid.*
Paradoxine
Paradoxine is a research-backed, patented extract of Grains of Paradise (Aframomum Melegueta) standardized to 12.5% 6-paradol.* 6-paradol is an aromatic ketone that is the major bioactive constituent of Grains of Paradise.* Research indicates that supplementation with Grains of Paradise extract may stimulate thermogenesis, increase energy expenditure, and decrease body fat.*
Cayenne Pepper
Cayenne pepper contains the fiery alkaloid capsaicin which has been noted to possess some very enticing weight loss benefits.* Capsaicin has been noted in research to help reduce appetite and increase satiety by increasing glucagon
like peptide 1 (GLP-1) and decreasing ghrelin (the hunger hormone).* Additional studies indicate that capsaicin can stimulate brown fat thermogenesis, which supports greater energy expenditure and calorie burning.*
Capsaicin may also help reduce appetite and calorie intake, due to its binding and activation of transient receptor potential vanilloid-1 (TRPV1) in the mouth, stomach and small intestine.* Activation of TRPV1 receptor stimulates the release of noradrenaline and dopamine, which have been noted to enhance weight loss and exercise performance.*