Quick Links to Our Prices
How does this work and how do stores get listed? See our disclosure below to learn more. Price History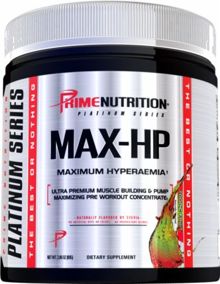 Prime MAX-HP is a new pre workout supplement that contains a small dose of epicatechin, the cocoa flavonol that's been causing all the rage in the supplement world.
Maximum hyperaemia
Enhances hyperemia
Builds muscle
Increases energy
Training performance
Ingredients Per Serving
Product Details
All natural MAX-HP is the most scientifically driven pre-workout formula ever created. Each serving includes the highest quality raw ingredients, at the maximum level of volume per ingredient. MAX-HP is exactly what you would expect to see from the industry's most advanced bodybuilding supplement tier.
Maximum Hyperaemia (MAX-HP) delivers exactly what the name calls for – excessive accumulation of blood flow to meet metabolic needs throughout the body. By taking a serving of MAX-HP we are stimulating the body's natural processes, creating a highly anabolic environment while we train.
In addition, MAX-HP has zero artificial sweeteners, dyes, colors, and flavors to give you a pure boost with no nonsense added.
Epi-Strong
Included is an ingredient new to the scientific community called Epi-Strong. Epi-Strong is a naturally occurring flavonol with high antioxidant and anabolic properties found in sources like dark chocolate and cacao. Researchers discovered that by isolating Epi-Strong it dramatically inhibited myostatin production. This is extremely exciting as myostatin is the source responsible for how many muscle cells a human can have and how big they can become. This means Epi-Strong can unlock new levels of human musculature that is otherwise impossible in nature.
We discuss epicatechin much more in our blog post, Epicatechin: The Dark Force Behind Dark Chocolate. However, note that the 25mg dosage is nowhere near enough to get the anabolic effects discussed here. Read the document for more.
Maximize Hyperaemia
With the inclusion of citrulline malate, glycerol monosterate, and agmatine sulfate we combined the top three clinically accepted nutritional supplements responsible for promoting the highest volume of blood flow into an actively moving body part.
Activating the body to be ready to train is one thing; sustaining high levels of intensity for extended lengths of time to properly induce hypertrophy into the muscle cell is another. By adding in high potency values of caffeine anhydrous and beta-alanine we can assure drive, focus, and drastically reduced lactic acid production through any workout you undertake.