Quick Links to Our Prices
How does this work and how do stores get listed? See our disclosure below to learn more. Price History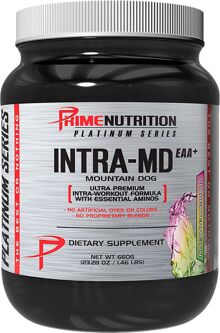 Prime Nutrition Intra-MD EAA+
Intra-MD EAA+
Less than a year ago John Meadows and the Prime Nutrition formulation team came together to develop a product specifically designed to help optimize nutrition while you train. For years you settled on water, a gas station carb drink, or an energy supplement to power you through your sets, completely abandoning science and an optimal state for strength, power, and new muscle cell recruitment. All of that changed with the release of Intra-MD. Athletes and bodybuilders around the world raved about the results they were seeing by the simple addition of this advanced new peri-workout supplement. But like every great team, we strive to improve and more importantly, listen to what users of this product are saying.*
Packed with Hand Selected EAAs!*
0 Carbs!*
No Artificial Dyes or Sweeteners!*
You wanted a no carb Intra-MD? Now you have it! You wanted additional EAA's to Intra-MD? Now you have it. And even better, we added TeaCrine, so while there may not be carbohydrates in the mix, you'll still be energized and focused throughout your workout!*
What are EAAs?
"Essential" because they have to be obtained from the diet, EAAs are critical to recover from, and ultimately grow from the most intense workouts. Among the BCAAs is the amino acid leucine, a key activator or mTOR and master-controller for muscle protein synthesis. It is leucine uptake into muscle cells that flips the switch for protein synthesis and muscle building to ON. In addition to serving as raw materials to crank out new proteins for muscle growth and repair, EAAs increase amino acid transporter levels in cell membranes, providing a potent anabolic punch.*