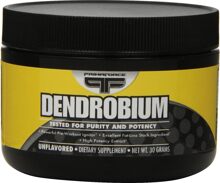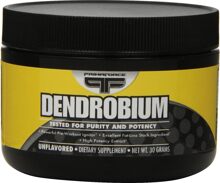 Dendrobium
Powerful Pre-Workout Igniter*
Excellent Fal-Loss Stack Ingredient*
High Potency Extract*
Improved Performance*
Dendrobiums are among the most commonly encountered orchids and they are classified as epiphytes or air plants. The genus Dendrobium (Orchidaceae) includes about 1600 species in the world, 15 of which are found in Taiwan. Its major natural distribution regions extend from Japan, Korea, China, and Taiwan through the Indo-Malayan region and Indonesia to New Guinea and Australia. Dendrobium species are important for their wide variety of medicinal properties.
Dendrobium nobile Lindl. (Orchidaceae), known in China as "Chin-Chai-Shi-Hu," is used as a tonic in traditional medicine. The stems of the plant, fresh or processed, are used in Traditional Chinese Medicine to improve appetite, stimulate salivary secretion, and promote general health. Our Dendrobium is grown using a tissue culture technology that ensures potency and purity. Our Dendrobium extract contains a spectrum of naturally occurring alkaloids, esters and phytosterols.
Dendrobium extract contains naturally occurring high potency antioxidants that help maintain a normal inflammatory response while reducing free radical damage that occurs during high intensity training, thereby making it an ideal add-on for physique and endurance Additionally, dendrobium is a popular supplement in fat burning and pre-workout formulations.