Warning: This product is not currently available at any store.
Click the button above and PricePlow will email you when the first store has it in stock!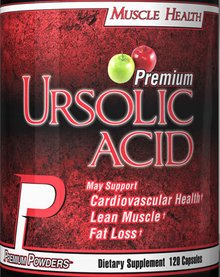 Premium Powders Ursolic Acid
Ursolic Acid by Premium Powders

Benefits of Supplementing with Ursolic Acid:
• Promotes Fat Loss
• Prevent Muscle Loss and Weakness
• Support Lean Muscle Gains
• Improve Overall Strength
• Support Cardiovascular Functioning
• Improve Liver Health
• Could Have Anti-arthritic Effects
• Improve Bone Density and Joint Health
• Promotes Healthy Blood Sugar Levels
• Lower Cholesterol Levels
• HPLC Tested for potency and purity

Ursolic Acid by Premium Powders is a pentacyclic triterpene acid. It is present in many plants, including apples, basil, bilberries, cranberries, elder flower, peppermint, rosemary, lavender, oregano, thyme, hawthorn, and prunes. Apple peels contain large quantities of Ursolic Acid. Ursolic Acid in these foods contributes to their overall health benefits. Recent studies have found Ursolic Acid may reduce muscle atrophy and stimulate muscle growth; they have also shown it to have potential use as a cardio protective compound. Ursolic Acid has also been found to be a weak Aromatase Inhibitor. It has been found to be effective in protecting against chemically-induced liver injury in lab animals. Also in lab animals, Ursolic Acid has long been recognized to have anti-inflammatory and antihyperlipidemic properties. Recently, it has been noted for its anti-tumor promotion effects, which has stimulated additional research in this field.

Currently, Ursolic Acid is being studied in human clinical trials for treating cancer, tumors, and skin wrinkles. According to a study conducted by the University of Iowa in June 2011, mice that were fed Ursolic Acid had smaller fat cells than mice that did not get the substance; they also noted that in addition to reducing fat mass in mice, Ursolic Acid increased muscle mass and strength. This study also showed that Ursolic Acid reduced muscle atrophy (muscle wasting) and promoted muscle growth. Additionally, it reduced fat, blood sugar levels, and cholesterol. The study suggests that Ursolic Acid's ability to both inhibit muscle wasting and promote muscle growth stems from its ability to influence IGF1. This hormone, and its close cousin insulin, both bind to receptors on muscle cells, setting off a cascade of cellular pathways that either enhance muscle growth or block atrophy. Ursolic Acid appears to increase the activity of the receptors for IGF1 and insulin, amplifying the beneficial effects of these hormones in muscle.

Who should supplement with Ursolic Acid?
Any adult that wants large doses of this supplement without eating a ton of apple skins should supplement with this product. Bed-ridden patients or sick people who are at risk of muscle atrophy or muscle waste should consider supplementation with Ursolic Acid. Any adult looking to gain lean muscle mass and promote fat loss should consider supplementation. Directions: As a dietary supplement, take one serving (150mg) three times daily, or as recommended by your physician.

WARNING: KEEP OUT OF REACH OF CHILDREN. This product is intended for adults only. Not for use for anyone under 18 years of age, pregnant or nursing women. At this time, there are no known negative side effects to supplementing with Ursolic Acid. If you have had a medical condition or are currently using prescription drugs consult your physician before using this product. Avoid this product if you have any previous history of medical dysfunction or disease including but not limited to kidney disease. Discontinue use and consult your doctor if any adverse reactions occur. As with any dietary supplement, we recommend that you consult a physician before use.

These statements have not been evaluated by the Food & Drug Administration (FDA). This product is not intended to diagnose, treat, cure, or prevent any disease. ALWAYS consult your physician before taking supplements.