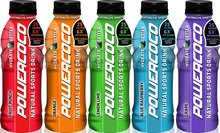 PowerCoco Natural Sports Drink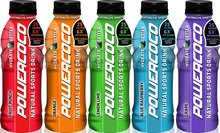 PowerCoco Natural Sports Drink
PowerCoco Natural Sports Drink Blue Raspberry Description
Electrolyte Sports Drink
Hydrate Better
25 Calories
6X Potassium
PowerCoco is a natural sports drink that still tastes like a sports drink - a concept other brands don't seem to get. Have you ever stood in the aisle looking at the ingredients in your sports drink and noticed that it's full of artificial colors, corn syrup and calories. So you tried coconut water. But coconut water tastes like, well, coconut water - you either like it or you don't. We found ourselves in the same place, looking for a way to hydrate better.
That's why we created PowerCoco.
PowerCoco has no artificial colors or flavors and has less than half the calories, sugar, carbs and almost six times the potassium of the leading sports drink.
See how we compare below
VS. The Leading Sports Drink
PowerCoco

Sports Drink

Natural sweeteners
Yes
No
Natural Flavors
Yes
No
Potassium
180 mg
30 mg
Calories
25
50
Sugar
5 g
14 g
Carbohydrates
6 g
14 g
No Cholesterol &
No High Fructose Corn Syrup
Hydration just comes naturally to use.
Directions
Give me a shake and drink me cold.
Free Of Artificial colors and flavors. Disclaimer These statements have not been evaluated by the FDA. These products are not intended to diagnose, treat, cure, or prevent any disease.
Nutrition Facts