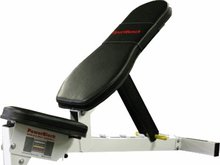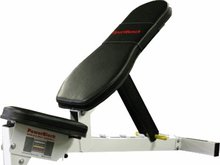 Important Shipping Information
PowerBlock SportBench will be shipped separately from the supplier and may take up to 5 business days for delivery. Trust us - it's worth the wait!
This bench is made of 2" x 3" 14 Ga. tubing and has tapered upholstered cushions. There are separate seat and back pads. The seat pad can be adjusted down (shown at left) when in the incline positions so you will not slip forward while inclined. The bench has no removable parts to lose or misplace. The back pad has 5 adjustments. It adjusts from flat to 30, 45, 60 degrees and also military position. The bench comes mostly assembled with very little further assembly required. The bench pad (flat position) is 16" from pad to floor. The total length (flat position) is 50". The widest part (back leg) is 21".