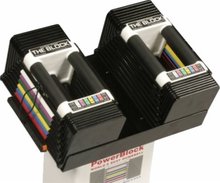 PowerBlock Classic 45 Set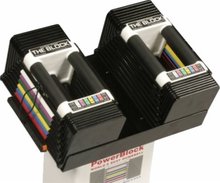 PowerBlock Classic 45 Set
IMPORTANT SHIPPING INFORMATION
Delivery in the Continental U.S. only. This item is ground shipped by the manufacturer and may take up to 14 days to reach its new home. Trust us - it's worth the wait!
The Classic Series is the second generation of PowerBlock dumbbells and feature black powder coat painted weight plates in the traditional square shape. The Classic PowerBlocks offer a great great value and some different weight ranges and price points.
This set adjusts from 5-45 lbs in 5 lb increments (5, 10, 15, 20, 25, 30, 35, 40, 45 lbs) in each hand. This set has a maximum weight of 45 lbs per hand. The Classic 45 replaces 9 pair or 18 fixed dumbbells that would have a combined weight of 450 lbs. (Shown on optional Stand) Also available optional Classic Bar to allow barbell exercises with your Classic 45 Set. Classic 45 value at $279/set- cost per lb on the Classic 45 (replaces 450 lbs) is 62¢. Compare to hex heads at 99¢ lb costing $445.50. The dimensions of the Classic 45 are; 12"L x6" W x 6" H. Ships in 2 boxes.