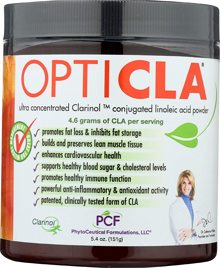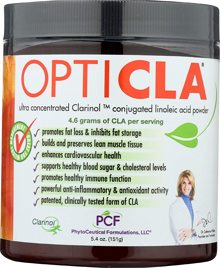 Ultra concentrated clarinol conjugated linoleic acid powder
4.6g CLA per serving
A 7g scoop nets 4.6g active CLA - the amount clinically shown to provide results*
What if there was a product that could burn fat, preserve and build lean muscle tissue, and inhibit future fat storage, all while delivering other critical health benefits like promoting healthy blood sugar and cholesterol levels, enhancing immune function and providing powerful anti-inflammatory and antioxidant protection? Well there is - OptiCLA by PhytoCeutical Formulations. This revolutionary weight loss product is the most concentrated, bioavailable form of CLA on the market today. OptiCLA comes in a convenient, easy to use powder form delivering a full 4.6 grams of fat burning, lean tissue building CLA, which research has shown to be the most effective in the battle against obesity. OptiCLA by PhytoCeutical Formulations can easily be mixed into a protein shake or other beverage, or added to food, providing the optimal fat burning, lean tissue building dose in just one scoop.
OptiCLA from PhytoCeutical Formulations provides a newer, more effective way to combat fat and beat the effects of "yo-yo" dieting for good. Rather than just restricting calories, which ultimately results in loss of our metabolically active calorie-burning muscle tissue, OptiCLA accomplishes your real goal of a true change in body composition. With OptiCLA you can see the inches disappear, particularly in that stubborn abdominal region. OptiCLA in combination with a healthy diet and regular exercise program is a must for anyone wishing to enhance their overall health and well being, while promoting a leaner, firmer, more toned body.
Benefits: *

Promotes fat loss & inhibits fat storage
Builds and preserves lean muscle tissue
Enhances cardiovascular health
Supports healthy cholesterol levels
Promotes healthy immune function
Powerful anti-inflammatory and antioxidant activity