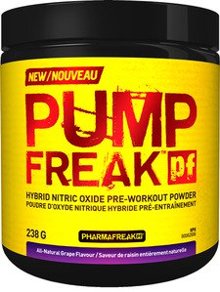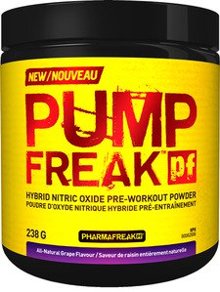 Pump Freak
Fuels nitric oxide (NO) & muscle pump
Supports endurance & recovery!
Stimulant free
POWERFUL NITRIC OXIDE!
New PUMP FREAK is a next-generation nitric oxide (NO) pre-workout pump product formulated with clinical doses of research-validated ingredients shown to help intensify nitric oxide (NO) production, support energy levels and help sustain an intense workout pace! Unlike traditional pump products that focus their formulas on the arginine-NOS pathway, which depletes needed oxygen for an intense workout, PUMP FREAK is a hybrid NO stimulator formulated with specific amino compounds that feed the nitrate-nitrite-NO pathway while helping to conserve oxygen and energy
PUMP FREAK also delivers supportive ingredients that work to further support blood flow and muscle pumps while also supporting workout recovery and muscle cell hydration!
NITRIC OXIDE & MUSCLE PUMPS
PUMP FREAK delivers nitrates to be converted into NO via the efficient and oxygen-conserving nitrate-nitrite-NO pathway. This pathway helps conserve oxygen, supports exercise performance and helps reduce exercise fatigue.
CUTTING-EDGE INGREDIENTS
PUMP FREAK contains several unique ingredients, including the brand new NO-support ingredient, AmentoPUMP, plus the patented and patent-pending AstaGin and ActiGin!
ENDURANCE & RECOVERY
PUMP FREAK delivers key ingredients, such as citrulline malate and betaine, to help boost endurance and reduce fatigue during intense workouts