Quick Links to Best Prices Price History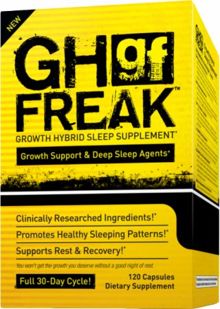 GH FREAK
GROWTH HYBRID
SLEEP SUPPLEMENT!Clinically Researched
Ingredients*Deep Sleep Agents*Supports Rest
& Recovery*Promotes Healthy
Sleeping Patterns*Full 30-Day Cycle*
GH FREAK – GROWTH HYBRID SLEEP SUPPLEMENT*
You won't get the growth you deserve without a good night of rest! GH FREAK is a cutting-edge Growth Hybrid Sleep Supplement and is formulated to promote healthy sleeping patterns and greater rest and recovery!*
---
KEY BENEFITS:
Clinically Researched Ingredients!*
Promotes Healthy Sleeping Patterns!*
Supports Rest & Recovery!*
Full 30-Day Program
---
Key Ingredients in the GH FREAK Formula
GABA (Gamma-Aminobutryic Acid)
GABA (Gamma-Aminobutryic Acid) is a neurotransmitter that helps nerve impulses communicate.* In the central nervous system, GABA is the primary inhibitory neurotransmitter and is known to exert sedative effects.* GABA is also involved in regular healthy hormone production in the body.*
DHEA (Dehydroepiandrosterone)
DHEA (dehydroepiandrosterone) is a hormone that is produced in the adrenal glands. As individuals age, DHEA levels decrease. DHEA supplementation has been shown to support healthy DHEA levels in the body.*
5-HTP (5-Hydroxy-L-tryptophan)
5-HTP is the intermediate metabolite between L-tryptophan and serotonin. 5-HTP can cross the blood-brain barrier and increase central nervous system (CNS) synthesis of serotonin.* Healthy serotonin levels are associated with deep, restful sleep.*
L-THEANINE (5-N-ethyl-glutamine)
L-theanine is a naturally occurring amino acid found in tea and is often used to help reduce occasional stress.* Research shows that L-theanine can promote healthy alpha-wave production in the brain, which is known to have relaxing effects.
MELATONIN (N-Acetyl-5-methoxytryptamine)
Melatonin is a hormone produced naturally by the body in the pineal gland of the brain. The release of melatonin correlates with the body's cycle of day and night, with the highest levels of melatonin produced at night. Melatonin can help regulate the sleep cycle, and healthy melatonin levels are known to be important to restful sleep and recovery.*
NIACIN (3-Pyridinecarboxylic acid, Nicotinic Acid)
Niacin is an essential B vitamin and is a factor in the maintenance of good health.*