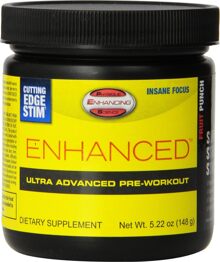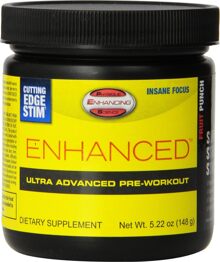 Get Enhanced
Let's face it: gaining muscle isn't easy. Aside from eating the right foods day in and day out, you need to bust your butt in the gym to see results. If you want your muscles to grow, you need to get stronger, and if you want to get stronger, you need to bring intensity to your training sessions so that you lift more weight with each successive workout. You need to Get Enhanced.*
New Stimulant Feel*
Novel Amino Nitrate*
Triple-Phase Pump*
World Class Taste
Our PES Enhanced Review
Mike and CJ took on the original version of Enhanced, and were wowed by the amount of focus here!
Superior Strength Stimulant Complex: The Mind
When PES decided to master the mind-muscle connection, we wanted to make your mind and body the ultimate powerhouse working in harmony so we used Swertia chirayita – consider it the new kid on the block.
Over 190 compounds have been found in the Swertia species, from xanthones to alkaloids. We spent months on end testing different species and different extractions. Alas, we found an all new feel to the supplement industry in our Swertia chirayita extract when combined with the other ingredients in the Enhanced formula. The novel xanthones in this species provide a feel that not only is all new, but hits the same every time you take it.*
Enhanced uses a well-crafted energy foundation behind the Swertia extract consisting of caffeine, Norcoclaurine HCl, and a novel extract, nPYE.
nPYE may look familiar at first glance of the label, but be assured this is not some dirty yohimbe extract you've taken before. More than 25 public beta testers and none of them would have guessed there's any form of yohimbe. As SA2-A is a novel extract used in Alphamine, nPYE is another novel extract that perfectly rounds off the formula's feel. This plant has more than a dozen alkaloids, all with very different feel.*
We knew we had a stimulant complex that was all new and ready for the market with this but we wanted more. Aegeline has made a breakthrough in the supplement world for its ability to engage the mind-muscle phenomenon. When we added this ingredient to Enhanced in our testing phases, everyone was emailing back saying that this HAD to be in the formula.*
Unparalleled Vascularity and Pump: The Muscle
Enhanced uses a pump and vascularity combination that is incomparable - a patented form of Leucine known as Leucine Nitrate coupled with Agmatine Sulfate. Nitrates and Agmatine are each separately becoming the rave for their unparalleled pumps and vascularity, but in Enhanced we combine them for the ultimate result: muscles feeling like balloons and roadmap veins that keep you coming back for more.*
That is what Enhanced brings you…the energy and focus of a concentrated pre-workout, with the pumps and vascularity of a bulky pump powder.*
Acetylcholine Trifecta: The Connection
You see, whether you're big or small, you will always have some amount muscle on your frame but you don't have access to every muscle fiber at any given period in time. For instance, when you do a set of bench press, you may only have 70% of your muscle fibers firing throughout the set. The reason for this is that each of your muscle cells is paired with a neuron that controls whether or not the muscle fiber will contract. The goal: get more muscle fibers firing.
It all begins where your neurons connect with your muscles: a region known as the neuromuscular junction (NMJ). The NMJ is quite literally a connection of your mind and your muscles that uses a neurotransmitter called acetylcholine to send signals.
PES uses a special blend of choline bitartrate, cytidine 5'-diphosphocholine (CDP-Choline), and Norcoclaurine HCl to target this special mechanism. No product before has unlocked its potential in the way Enhanced has…something gym goers will truly appreciate when they grab ahold of the iron and prepare to set a new personal record.*
Here's the reality: Unless you master the mind-muscle connection, you may never reach your growth potential. The solution isn't training harder. It's training smarter. It's time to destroy old plateaus, train like never before, and make the fastest progress you've ever seen in the gym. It's time to Get Enhanced!*