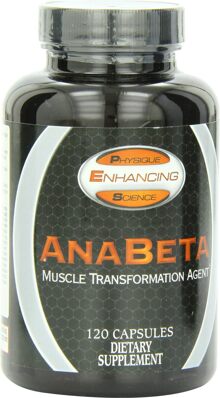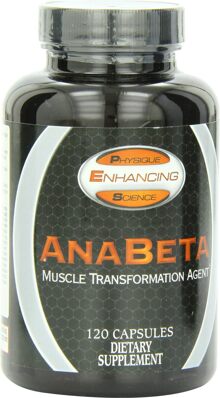 Swipe left/right to reveal product information
PES, the leader in innovation and nutritional science has released a completely ground-breaking new compound found only in the new AnaBeta! This naturally engineered extract has shown to build lean, quality muscle without the use of harsh hormones that destroy the liver and cause estrogen dominance.
No suppression means no Post Cycle Therapy or diminished testosterone levels, or unwanted estrogenic side effects like water retention, gynecomastia, and testicular atrophy. The age of prohormones and the risks associated with them to build muscle has passed...Enter the Age of AnaBeta!
AnaBeta is a product in an all new category of its own. It is a compliant, non- toxic, non-suppressive myotropic phenomenon! When PES set out to create a product of this type over a year ago we had a number of ingredients that interested us. We eventually landed on the ingredient of AnaBeta, Anacyclus pyrethrum extract. We read the research on the ingredient which stated an extraction method using petroleum ether (Pet Ether, or PET). We knew this extract would have been commercially impossible to use and produce a viable product for the market and that made economical sense. Instead we used our own method of extraction that proved to be incomparable to any compliant supplement we or any of our local testers had ever used. The method of extraction used is unique to PES and specialized to yield specific results in muscle science.
We knew A. pyrethrum had immense muscle building properties but we wanted a way of making a more commercially available extract for the constituents that had these effects. While there is research on A. pyrethrum showing it does in fact have myotropic capabilities via the PET extraction, we wanted to test our extract without claims to the testers. We couldn't use research of a different extract and pass it off as our own. That is why you will find 20+ people of all different goals and lifestyles have already ran an entire bottle of AnaBeta prior to release.
Time and time again you see new products hitting the market as testosterone boosters. The concept makes sense. Testosterone is the natural muscle building hormone in the human body. If we increase testosterone we then increase our natural muscle growth. PES wanted to be more innovative than this. Instead of creating a product that just increases your testosterone …why don't we find a natural myotropic ingredient that elicits its own muscle enhancing effect without causing any suppression, toxicity, or requiring a PCT? Well, we did exactly that with AnaBeta!
AnaBeta is NOT another testosterone booster; it is not a supplement that mimics insulin. It is a natural muscle enhancetr that works. You can expect all myotropic physiological effects from AnaBeta: Increased lean mass, increased strength, increased power, greater recovery, increased vascularity, physique changes, etc. But remember, you need to be feeding properly towards your goals. Pizza doesn't make you look like Mr. Olympia.
Many initial testers experienced an increased demand for ALL nutrients from AnaBeta putting their bodies' at a high level of muscle growth. With this you will have an increase in protein synthesis and an increase in muscle glycogen storage; two common properties of myotropics. You need to feed the demanding muscles towards your goals. You need to be eating protein, carbs, and BCAAs at a high ratio like 8:1:1. Your muscles are demanding to grow, so let them! Feed towards your goals.
AnaBeta is truly a class of its own. The research on the ingredient of AnaBeta compared two different doses of their extract to a control group and a group taking pure testosterone. First it states that Anacyclus pyrethrum is in fact myotropic when taken orally and suggests a testosterone like action. But AnaBeta isn't just another test booster. The only benefit of AnaBeta possibly being a mild test booster indirectly is it proves AnaBeta is a muscle enhancer that will NOT cause suppression and it will NOT require a PCT. What an amazing additional effect!
By viewing the results in the study and comparing the body weight gains and other factors tested, one group given A. pyrethrum achieved more body weight gain compared to the group taking pure testosterone. We are not going to sit here and tell you this stuff is stronger than testosterone, it doesn't work quite like that. But it does show A. pyrethrum is in fact muscle enhancing as the increase in body weight is the best marker in seeing how myotropic each extract/group is. What is important to note in the study is the A. pyrethrum groups showed to be less androgenic than the testosterone groups, but more muscle building. This is EXACTLY what we were looking for! We wanted something VERY myotropic and slightly androgenic. A. pyrethrum showed just that. These results are also a key indicator of how A. pyrethrum effects are not from an increase in testosterone but rather through its own independent myotropic effects. If the science isn't enough for you to believe that just read the feedback from AnaBeta users.
This compound has not given any users any type of bloating, but rather very lean, hard, clean mass…perfect for both bodybuilders and athletes. AnaBeta has drawn the attention of many. Not because we hyped it up, but because of the honest feedback all of our beta testers had. Some testers felt effects in 1- 3 days, some it took a full 2 weeks. But one thing is for sure; every tester was very satisfied and demanding more!
For an even great anabolic effect, try PES Anabeta Elite with added Forskolin and 5-Androsten-3b,7b-Diol-17-One.*
AnaBeta References:
Sharma V, Thakur M, Chauhan NS, Dixit VK. Effects of petroleum ether extract of Anacyclus pyrethrum DC. on sexual behavior in male rats. Zhong Xi Yi Jie He Xue Bao. 2010 Aug;8(8):767-73.
Sharma, V., Thakur, M., Chauhan, N.S. and Dixit, V.K. (2008). Evaluation of the Aphrodisiac Reproduction Activity of Anacyclus Pyrethrum DC in Male Rats. Sci.Pharm., 200: 1-13
Ramamani A, Aruldhas MM, Govindarajulu P. Differential response of rat skeletal muscle glycogen metabolism to testosterone and estradiol. Can J Physiol Pharmacol. 1999 Apr;77(4):300-4.