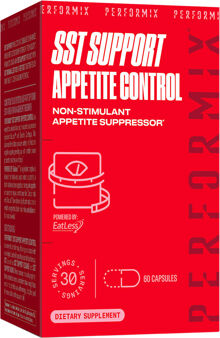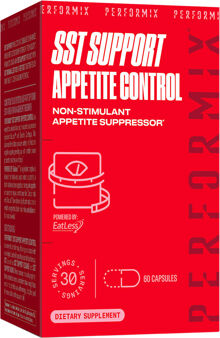 Non-Stimulant
Appetite Control

Controls Appetite
Helps to Reduce Calorie Intake

Every Performix supplement is driven by our TERRA Intelligent Dosing technology, utilizing intelligent delivery to help maximize every single molecule's potential...period. To outperform, outlast, and outdo.

TERRA Coating is an innovative Multi-Coating Matrix (MCM) technology that targets extended release functionality. This offers an advanced delayed release coating system designed with multiple release points to help maximize ingredient performance.

Control Your Appetite As Part Of Your SST Regimen
Performix SST CONTROL is a non-stimulant formula, allowing you to stack with our original, best-selling multi-phase fat loss formula, SST, as well as SST CLEANSE and SST BURN. When combined in a daily regimen, these products create a transformative weight loss matrix that provides you with the energy, discipline, and drive to crush it, in fitness and in life.

POWERED BY: EatLess is derived from hydrolyzed yeast protein, supporting a healthy balance of neuropeptides that regulate appetite and satiety to help you control your diet. Clinical trials with EatLess have shown significant reductions in weight, energy intake, body mass index, and abdominal fat in just six weeks.