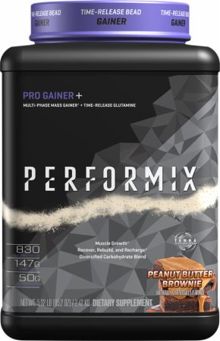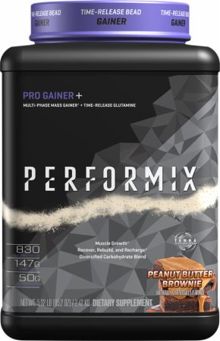 MULTI-PHASE MASS GAINER† + TIME-RELEASE GLUTAMINE
MUSCLE GROWTH*
RECOVER, REBUILD, AND RECHARGE*
DIVERSIFIED CARBOHYDRATE AND BLEND*
50g
Protein
Per Serving
149g
Carbs
Per Serving
840g
Calories
Per Serving
Available in 5 SERVINGS + 10 SERVINGS
AND in 2 flavors:
Size matters, but it should be quality over quantity. When putting on mass, you look to build colossal muscle and impressive strength, while maintaining a lean and fit body composition. We combine an abundance of quality protein with a multi-phase carbohydrate blend along with creatine, leucine and time-release glutamine for a formula ideal for explosive growth. They work together to create the perfect macronutrient profile for putting on massive amounts of lean muscle, and providing you with sufficient recovery from even the most demanding training regimen.*
Muscle Growth
Build mass with out optimally designed macronutrient profile, containing an abundance of protein and carbohydrates, combined with creatine and leucine. This formula provides you with the right elements to accelerate strength and muscle growth by providing an ample ratio of these key nutrients.*
Recover, Rebuild, and Recharge
Time-release glutamine beads help you repair muscle, support endurance and aid recovery from challenging training as you continue to gain mass.*
Multi-Phase Carbohydrate Blend
If you want quality size, you need quality ingredients. Our multi phase blend of carbohydrates combines fast-digesting high-glycemic carbs with low-glycemic whole-food souced carbs. This means you get the benefits of quickly absorbing carbs for immediate muscle-building and recovery along wih the advantages of a longer absorbing plant-based carb source.*
THE TERRA DIFFERENCE
Unique TERRA Intelligent Dosing technology offers controlled release of key metabolic ingredients. This targeted nutrient delivery system is designed to impact absorption and drive unparalleled results.
Advanced Multi-Phase Extended Release*
Available in 2 flavors: