Quick Links to Best Prices Price History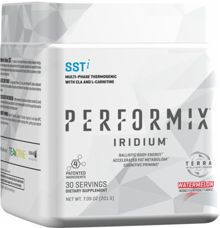 THE PERFORMIX IRIDIUM DIFFERENCE
Mental toughness and clarity of mind are the difference between achieving your goals and redefining them. PERFORMIX IRIDIUM is designed exclusively for elite athletes seeking to sharpen their edge and catalyze physical intelligence.
Precision engineered with the highest quality premium ingredients, PERFORMIX IRIDIUM is setting the standard for supporting cognitive function, mental strength and physical domination with a singular focus on performance.*
SUPER SUSPENSION THERMOGENIC*
Ballistic Strength*
Weight Loss Support*
Cognitive Priming*
PERFORMIX IRIDIUM SSTi is a premium, multi-phase thermogenic providing explosive energy, maximum thermogenesis and peak cognitive performance. With 17 synergistic ingredients, this advanced formula not only provides targeted nutrient delivery, but also collaborates with the body's biochemical processes to take your performance to the next level.*
TERRA INTELLIGENT DOSING TECHNOLOGY
Unique TERRA Intelligent Dosing technology offers controlled release of key metabolic ingredients. This targeted nutrient delivery system is designed to impact absorption and drive unparalleled results. 
ADVANCED MULTI-PHASE
EXTENDED RELEASE*
PATENTED CLINICAL INGREDIENTS COMBINED WITH AN ADVANCED DELIVERY SYSTEM
BALLISTIC BODY ENERGY
An ample dose of Vitamin B-12, along with Yohimbine HCl, deliver sustained energy by inhibiting metabolic breakdown of key actives with BioPerine and utilizing multi-particulate delivery technology.*
ACCELERATED FAT METABOLISM
Caffeine and Synephrine elevate the body's basal metabolic rate, encouraging weight loss support.*
COGNITIVE PRIMING
TeaCrine Theacrine, Cognizin Citicoline, Huperzine A and Alpha-GPC prime the body for intense workouts, delivering an amplified nootropic effect, igniting acute mental focus and fueling endurance.