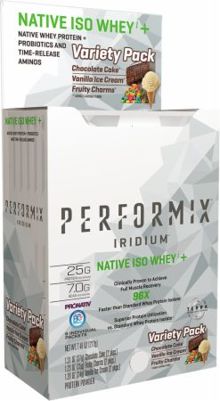 Performix Iridium Native ISO Whey+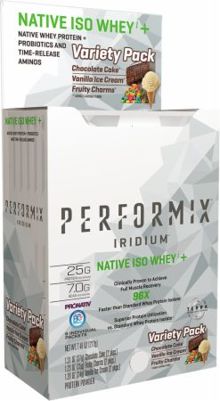 Performix Iridium Native ISO Whey+
Native Whey Protein + Probiotics and Time-Release Aminos
Clinically Suggested to Support Muscle Recovery Faster than Standard Whey Protein Isolate.* Superior Protein Utilization vs. Standard Whey Protein Isolate.*
25G
Protein

Per Serving
7.0G
BCAA

Per Serving
Formulated with Clean Undenatured Pronativ Whey
Pronativ is the purest whey protein available due to its unique, clean and low temperature extraction process. Proteins are extracted from top quality hormone-free milk to preserve it's properties without collecting the typical cheese residues, GMP, added ingredients and chemical agents found in the standard Whey Protein Isolate.
Clinically Suggested to Support Muscle Recovery faster than Standard Whey Protein Isolate*
Pronativ supports a supercharged 30-minute recovery time, compared to 48 hours with standard Whey Protein Isolate. The addition of our time-released ISO beads helps replenish key nutrients and extend the recovery benefits over multiple hours helping to combat muscle soreness and fatigue.*
Superior Protein Utilization vs. Standard Whey Protein Isolate*
PERFORMIX IRIDIUM Native Iso Wheyi+ is the only protein on the market that contains GanedenBC30 and Pronativ Whey. The addition of GanedenBC30 allows for improved protein utilization and absorption compared to standard Whey Protein Isolate while also aiding in digestion and immune support.*
%Protein Utilization†
NATIVE ISO WHEYi +
TRADITIONAL WHEY PROTEIN ISOLATE
Terra Intelligent Dosing technology
Unique TERRA Intelligent Dosing technology offers controlled release of key metabolic ingredients. This targeted nutrient delivery system is designed to impact absorption and drive unparalleled results.
Advanced Multi-Phase Extended Release*
1
Free Form Amino Acids:
absorbed instantly and stimulate muscle protein synthesis
2
AMINOS WITHIN PROTEIN:
liberated through the body's natural digestive mechanism to stimulate muscle protein synthesis.*
3
TERRA ISO BEADS:
free form amino acids are released over an extended period of time with our patented technology.
AVAILABLE IN 3 FLAVORS
The PERFORMIX Iridium Difference
Mental toughness and clarity of mind are the difference between achieving your goals and redefining them. PERFORMIX IRIDIUM is designed exclusively for elite athletes seeking to sharpen their edge and catalyze physical intelligence.
Precision engineered with the highest quality premium ingredients, PERFORMIX IRIDIUM is setting the standard for cognitive function, mental strength and physical domination with a singular focus on performance.*