Warning: This product is not currently available at any store.
Click the button above and PricePlow will email you when the first store has it in stock!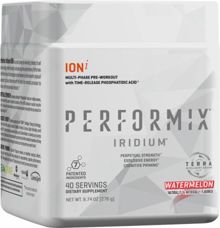 THE PERFORMIX IRIDIUM DIFFERENCE
Mental toughness and clarity of mind are the difference between achieving your goals and redefining them. PERFORMIX IRIDIUM is designed exclusively for elite athletes seeking to sharpen their edge and catalyze physical intelligence.
Precision engineered with the highest quality premium ingredients, PERFORMIX IRIDIUM is setting the standard for cognitive function, mental strength and physical domination with a singular focus on performance.*
MULTI-PHASE PRE-WORKOUT with TIME-RELEASE PHOSPHATIDIC ACID
Perpetual Strength*
Explosive Energy*
Cognitive Priming*
PERFORMIX IRIDIUM IONi is a multi-phase pre-workout, created to support explosive energy, resilient strength, and peak cognitive performance.* PERFORMIX IRIDIUM IONi not only utilizes targeted nutrient delivery to drive dynamic physical development, but also collaborates with the body's bio-chemical processes to evolve your performance beyond limitation.*
TERRA INTELLIGENT DOSING TECHNOLOGY
Unique TERRA Intelligent Dosing technology offers controlled release of key metabolic ingredients. This targeted nutrient delivery system is designed to impact absorption and drive unparalleled results.*
ADVANCED MULTI-PHASE
EXTENDED RELEASE*
PATENTED CLINICAL INGREDIENTS COMBINED WITH A POWERFUL DELIVERY SYSTEM
Perpetual Strength By releasing Mediator Phosphatidic Acid over multiple waves, Performix Iridium IONi supports consistent activation of the mTOR pathway to sustain muscle growth. This unique formulation allows you to embody and exude the strength that you earned in all aspects of your life.*
Explosive Energy Precision engineered with TERRA Intelligent Dosing technology, Performix Iridium IONi utilizes a complex of Caffeine, N-Acetyl-L-Tyrosine, Alpha Yohimbine, and Advantra Z to deliver explosive, sustained energy, and Citrulline Malate to maximize your pump every workout. This product is formulated with ingredients that inhibit metabolic breakdown of key actives and multi-particulate technology to maximize your training when you need it most.*
Cognitive Priming TeaCrine Theacrine delivers an intensified nootropic effect, igniting acute mental focus and fueling endurance for unprecedented cognitive performance.* KSM-66 Ashwagandha and Cottgnizin Citicoline prime the mind to do more, and do it better.*