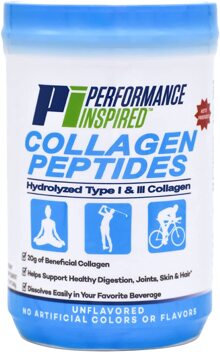 Performance Inspired Collagen Peptides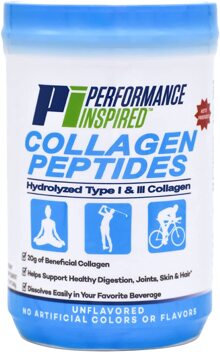 Performance Inspired Collagen Peptides
About this item
A Big 18g of Protein and NON-GMO, Bioavailable All-Natural Bovine Formula with Hydrolyzed Type I & III Collagen. This unflavored powder can be easily added to your favorite hot or cold drink and food without changing the taste. Compare servings to Vital as we give you a BIG 340gs and 17 serving, compared to their 265gs and only 13 servings! Upgrade and save! No added sugars or sweeteners. Gluten, cholesterol, heavy metals, and dairy free. Flavorless and odorless.

Collagen is very popular because, as we get older, our bodies become less efficient at producing it. Adding collagen to your daily routine is a healthy habit you can see and feel the results. Collagen is found in all of our connective tissues, tendons, ligaments and bones with its purpose being to provide these body parts with their strength, structure and elasticity.

Professional athletes are owners in Performance Inspired and they rely on our big family of products to fuel their daily and gameday performance. Proud owners include PGA Super Star Bryson DeChambeau and Draymond Green along with American Hero Marcus Luttrell, the Lone Survivor and Navy Seal along with WME/IMG Sports agency.

Co-founded by fitness fanatic, actor, and businessman Mark Wahlberg along with former GNC executives to create a line of quality, high value, all-natural products people can trust at a great price. Formulated for the everyday athlete and professionals that rely and trust our quality, clean, efficacious and robust formulas without unproven or artificial ingredients.

Proud to give back and we donate 2% of NET Profits to Charity! All of our products are proudly made in world-class GMP manufacturing facilities with a guarantee of Purity & Potency without any Banned Substances. We offer top-quality products at an amazing value for all of our high-performance natural and clean formulas with great taste.