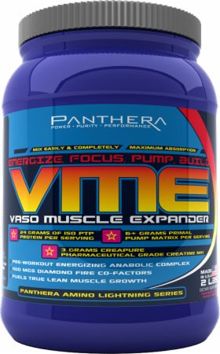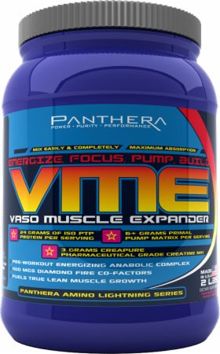 train hard and supplement smart – Panthera smart
VASO - MUSCLE - EXPANDER
If you are a more discerning athlete--who actually reads product supplement facts panels--inersted in building TRUE MUSCLE then please read on.
Panthera Labs has scientifically formulated a pre-workout complex, designed to fuel & increase lean muscle. VME has combined the Amino Acid profiles of PeptoPro and Whey Isolates to generate a powerful, yet rapidly digestable anabolic amino surge.
Trigger Muscle & Strength Gains
Highly Anabolic prework blend
PUMP, ENERGIZE, ANABOLIZE
ANABOLIC HEAT
This anabolic amino surge is combined with a powerful NO Primal Pump matrix (Volumizing muscle fibers) and Diamond Fire factors (Amplifying Energy & Focus). Consumption of this product in combination with resistance training, proper diet, and rest will result in the preservation and increase of lean muscle mass.*
PRE WORKOUT & PEPTOPRO MATRIX
Each Serving on VME Contains:
- THE MOST EXPENSIVE 23 g PROTEIN MATRIX IN THE SPORTS NUTRITION INDUSTRY
- 6,000 mg of PeptoPro Nano Particulate Bi and Tri Peptide Amino Acids.
PeptoPro hydrolized casein amino acids are the worlds most readily digestible,
most rapidly absorbable proteins.
NO OTHER PREWORK FORMULA OFFERS
THIS PROTEIN COMPONENT AT THIS STRENGTH
ZERO FILERS
ZERO MALTODEXTRIN
ZERO CORN STARCH
ONLY
PROTEIN BUILDS
MUSCLE
We have combined PeptoPro Nano particulate -- Di & TRI-peptide proteins with an additional 17,000 mg of whey isolates to deliver a total of 23,000 mg (23 grams of pure Amino Surge).
This product has been fortified with additional Ajinomoto pure high grade L-Glutamine and L-Taurine.
PeptoPro is unique in being pre-digested milk protein, derived from casein, which is neutral in taste. The secret lies in a patent-protected enzyme that reduces the typical bitter taste at the same time as generating tiny protein fragments (so-called peptides) that are rapidly absorbed into the bloodstream and so fuel the muscles.
PeptoPro: Why use it?
PeptoPro is comprised of small pieces of protein caled peptides - mainly di- and tripeptides. It has two key advantages. First, PeptoPro amino acids are quickly taken up by the body and delivered to the muscles just when they are needed most - during and directly after physical activity. Second, compared intact protein and other hydrolysates, PeptoPro has better taste and texture properties.
PeptoPro: Building blocks for better performance
When athletes use PeptoPro prior to, during and/or immediately after a workout, the extremely fine di&tri-peptide, pre-digested protein is rapidly absorbed.
**** PeptoPro is the source of one of the worlds finest and most expensive protein.****
During exercise, protein breakdown is larger than protein synthesis so, in fact, exercise normally results in a loss of muscle mass. This can be reversed by consuming extra amino acids. Because muscle protein consists of all 20 amino acids, each amino acid needs to be supplied to stimulate muscle protein synthesis. Protein synthesis is hampered and protein degradation may be promoted by the lack of only one amino acid, resulting in a higher loss of muscle mass. It is therefore important that protein supplied during exercise contains the complete amino acid profile.
Casein is considered to be one of the best sources of protein for muscle protein synthesis. It contains all amino acids in just about the ideal proportions. PeptoPro contains the same amino acids as casein, the only difference being the size of the peptide chains: very long for intact casein, very short (mainly di- and tripeptides) in PeptoPro.
When used during exercise, PeptoPro not only reduces muscle protein loss, it even builds up muscle mass, as shown in a recent experiment. PeptoPro therefore helps to reduce muscle damage, resulting in a higher and faster storage capacity for energy-containing compounds and a reduction of post-exercise muscle soreness.
Only in VME you can find a complete pre-work complex
that combines Creapure & Pepto Pro
- a combination that can not be matched!
TRUE MOBILE MUSCLE FUEL