Quick Links to Best Prices Price History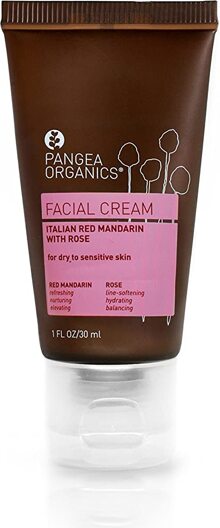 Pangea Organics Facial Cream
mind: elevating / body: nourishing

for thirsty skin
Red Mandarin

regenerative, nurturing, elevating
Rose

anti-wrinkle, hydrating, balancing
Ecocentric SkincareAlways:
Nurting
Handcrafted
Organic
Fair Trade (whenever possible)
Cruelty-Free
Never:
Petroleum
Sulfates or detergents
Synthetic preservatives
Artificial colors or fragrances
GMOs
Face the music.
Even if you're not thirsty at this particular moment, your face is. No matter what your skin type, hydration is always a good idea. Smooth it on, drink it in. Salut.
What we choose to consume today, directly impacts how we - and future generations - will live tomorrow. A portion of our profits are helping us build the Pangea Institute, an emerging non-profit organization dedicated to researching and teaching all aspects of sustainable living and business practices.
Out of the box and into your garden. This molded fiber box is the first of its kind. It was manufactured with zero waste and is created from 100% post-consumer newsprint without glues or dies. Soak the box for 1 minute and plant it about 1" deep in soil. Up should spring medicinal herbs found in our products. Enjoy.
* These statements have not been evaluated by the Food and Drug Administration. This product is not intended to diagnose, treat, cure, or prevent any disease.