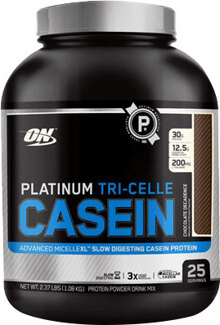 Optimum Nutrition Platinum Tri-Celle Casein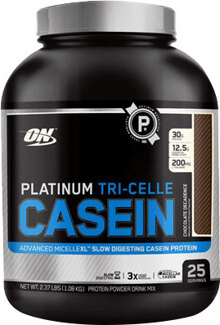 Optimum Nutrition Platinum Tri-Celle Casein
True Strength of Restructured Micellar Casein
ON's Slowest & Best Tasting Casein Yet*
30 Grams of Protein from an Advanced Casein Protein Blend*
Exclusive MicelleXL Restructured Micellar Casein Technology
Lasting Amino Acid Delivery Between Meals and Before Bed*
L-Theanine to Help You Make the Most of Your Post-Workout Recovery*
Excellent Source of Calcium with 60% DV per Serving
Lactium Milk Protein Hydrolysates
Anti-Catabolic Muscle Support*
Platinum Tri-Celle Casein is the pinnacle of our slow-digesting protein lineup. By using novel, patent pending MicelleXL technology, we've combined micellar casein molecules into a structure that is approximately triple the average size. These super-sized molecules form an ultra-thick gel that takes several hours to be digested and absorbed, providing sustained release amino acid delivery for lasting lean muscle support. Each serving of Platinum Tri-Celle Casein also delivers the relaxing properties of L-Theanine to help you make the most of your post-workout recovery. Taken between meals or before bed, we think you'll agree that our slowest casein is the easiest to mix and most exceptional tasting anti-catabolic protein we've ever made.*
30 Grams of Casein with MicelleXL Technology
Because these advanced micellar casein molecules are triple the size of normal molecules, they form a more dense structure during gelatation in your stomach. You'll also notice that the powder mixes up richer and thicker than regular micellar casein protein. Because it's instantized into fine particles, the mixing is much easier in water, milk and other beverages. One shake will convice you.
Enhanced with L-Theanine & Lactum Milk Hydrolysates
L-Theanine is an amino acid offering relaxation properties that may help you make the most of your post-workout recovery. Lactium is a novel milk compound containing 10 amino acid profiles. Together, these complementary components help make Platium Tri-Celle Casein Protein the most advanced, easiest mixing, and best tasting formula.