Warning: This product is not currently available at any store.
Click the button above and PricePlow will email you when the first store has it in stock!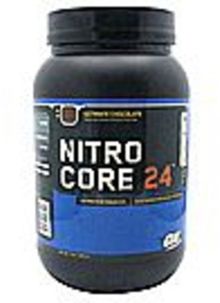 Optimum Nutrition Nitro Core 24
Optimum Nutrition NitroCore 24 3 Lb
10. That's how many strategically-chosen types of protein you will find in every serving of NitroCore 24. From ultra-fast acting, partially hydrolyzed whey proteins to much more slowly-digested micellar casein proteins, NitroCore 24 is a full-spectrum, sustained-release protein blend designed to be used any time of the day or night. In addition to 24 grams of the finest protein per scoop, NitroCore 24 provides 5 grams of hunger-satisfying dietary fiber as well as omega, monounsaturated, and MCT fats for energy and a taste that's creamy and incredibly delicious. And, as you'd expect from ON, NitroCore 24 is instantized to mix easily so you can enjoy it just about everywhere too.
Beyond The Basics
24 grams of PREMIUM BLENDED PROTEIN per scoop.

10 distinct protein sources provide SUSTAINED-RELEASE ACTION for A.M./P.M. coverage.

5 grams of DIETARY FIBER to help keep you full longer.

Lipid blend supplies 4 grams of OMEGA 3, 6, and 9 fatty acids plus MCTs.

Enzyme fortified for easier digestion and absorption.
Optimum Nutrition NitroCore Directions:

NitroCore 24 is Instantized, so it mixes easily. To prepare, simply add 1-2 scoops of NitroCore 24 powder to a blender, shaker cup, or glass filled with cold water, milk, or juice. Then blend, shake, or stir for about 15-30 seconds or until powder is completely dissolved. We suggest starting out with 6-8 oz of liquid per scoop. For a thicker, more strongly flavored shake use a little less liquid; for a thinner consistency use a little more water, milk, or juice. TIPS: (1) Plan ahead and bring a shaker cup with you to the gym or office to enjoy a quick on-the-go protein shake. (2) For the richest, creamiest shake, an electric blender is always best. To prepare, add 1-2 scoops of NitroCore 24 to a blender filled with cold water, milk, or juice (6-8 oz per scoop) and 3-5 ice cubes. Cover and blend on highest speed for about 45 seconds. Shake Up Your Shake: By adding a few high-energy ingredients, you can blend up a delicious meal: try adding fresh or frozen fruits (berries, bananas, peaches, etc.), peanut butter, flaxseed oil, coconut, and other ingredients. Stack Your Shake: By adding supplements including creatine, glutamine, taurine (CGT-10), instantized BCAAs, beta-alanine (Threshold) and/or concentrated carbohydrate blends (Glycomaize) you can make NitroCore 24 an even more powerful post-workout recovery product. Suggested Use: Consume approximately 1 gram of protein per pound of body weight per day from a combination of high protein foods and supplements. For best results, consume your daily protein allotment over several small meals spread evenly throughout the day.