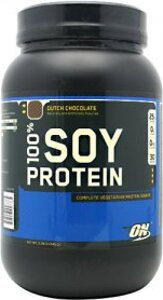 Optimum Nutrition 100% Soy Protein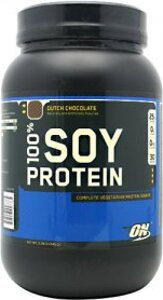 Optimum Nutrition 100% Soy Protein
100% Soy Protein Highlights:
25g of Soy Protein per Serving
Provides all eight essential amino acids (EAAs)
Nearly 2g of Arginine per Serving
Contains Naturally-Occurring Isoflavones
Lactose-free & Cholesterol-free!
Meets the FDA's "Heart-Healthy" Claim For Soy in Just One Scoop
No Cholesterol, Sugar, or Saturated Fats
Offers a Wide Range of Benefits and Conveniences for Vegetarians, Those with Specific Food Allergies, and Health-Conscious Individuals Alike
Can Be Used to Increase the Protein Content Foods
Optimum Nutrition 100% Soy Protein is an economical and great-tasting protein supplement specifically formulated to meet the FDAs heart-healthy claim for soy in just one serving. 100% Soy Protein offers a wide range of benefits and conveniences for vegetarians, those with specific food allergies, and health conscious individuals alike. Each serving of 100% Soy Protein provides 25 grams of lactose-free, cholesterol-free, non-GMO protein. And with only 2 grams or less of carbs per serving (less depending on the flavor variety), 100% Soy Proteins low-fat, sugar-free formula is also ideal for anyone on a low-carb diet. 100% Soy Protein can also be used in pancake batters, hot cereals, and other baked goods to increase the protein content.
Soy Protein Isolates are low in fat, cholesterol-free, and loaded with protein. As one of the few complete vegetable protein sources, soy proteins are suitable for vegetarians and contain all of the essential amino acids to help support muscle growth and development. Because we know you expect more from ON, this soy protein powder - like all ON powdered products - has been instantized for easy mixing. Make a quick shake using a blender, shaker cup or just a glass and spoon anytime you want to support your progress in the gym.