Warning: This product is not currently available at any store.
Click the button above and PricePlow will email you when the first store has it in stock!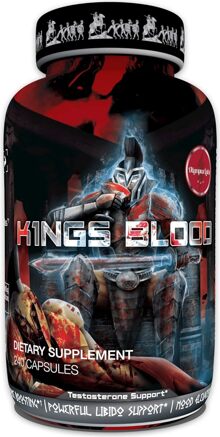 Olympus Labs Kings Blood PCT
A revolution in hormonal optimization is here with the latest exemplary formula from Olympus Labs. K1NG'S BLOOD was primarily designed as an advanced post cycle therapy (PCT) supplement. K1NG'S BLOOD is a surefire means to re-start your HPTA after the harshest of cycles. However, K1NG'S BLOOD is much more than the ultimate PCT supplement, it is a potent test booster and anabolic powerhouse that can be used off-cycle. K1NG'S BLOOD is such a dynamic supplement it can used in a variety of ways and can be stacked with other Olympus Labs products.
If you are unfamiliar with the modus operandi of Olympus Labs, it is to deliver Innovative products that actually yield Results at an amazing Value to the consumer. K1NG'S BLOOD is no exception, with a total of 11 ingredients at effective doses of course we hold true to that promise. At a total serving size of approximately 6g in K1NG'S BLOOD there will be exceptional results. Don't worry there are no fillers, no ingredients taking up space, only compounds befitting of a King. What's better is that will not take a King's fortune to afford K1NG'S BLOOD, every layman will have the opportunity to join the ranks of the Royals.
King's Blood by Olympus Labs utilizes four targeted matrices to transform you into an alpha male, embodying the very definition of masculinity; virility, testosterone and strength..
With that explosive boost in testosterone will inevitably result in a subsequent rise in estrogen. In order to maintain your male vigor it is beneficial to keep estrogen and associated rises in prolactin in check. Prolactin is a hormone associated with the production of breast milk… not a good look for you! The Estrogen & Prolactin Regulation blend will do exactly what the name suggests with effective doses of 1200mg Mucuna Prureins and 400mg Indole-3-carbinol (I3C). We could very well stop here with five potent and completely dosed ingredients, but we said King not Prince. There are still pathways we can target!
The Virility, LH & FSH Stimulation matrix consists of 600mg of Horny Goat Weed, 1500mg of Acetyl-L-Carnitine, 100mg of Royal Jelly and 1000mg of Ginger Rhizomes which will have your sex drive firing on all cylinders. A strong sex drive is a characteristic associated with virile men, along with energy and strength. This matrix will also stimulate luteinizing hormone (LH) and follicle stimulating hormone (FSH), hormones that work synergistically to produce testosterone and regulate the reproductive system.
The masterpiece is complete with 90mg of magnesium from Magnesium Aspartate, a highly bioavailable forms of magnesium and 50mg of zinc from zinc picolinate. They are both essential minerals included in K1NG'S BLOOD to ensure you maintain adequate levels in your body. A zinc deficiency can impact testosterone and weaken your immune system while a deficiency in magnesium can cause loss of appetite and fatigue. You will want to avoid those consequences at all times, especially during PCT.