Quick Links to Best Prices Price History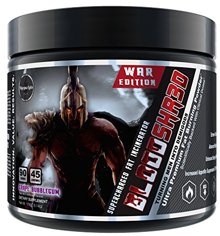 Olympus Labs BLOODSHR3D War Edition
BLOODSHR3D is a new thermogenic powerhouse that has been developed with 8 ingredients all perfectly dosed to get you shredded to the bone. Olympus Labs understands the blood and sweat that you pour into the battle to achieve the perfect physique. To that end, we are proud to present the latest innovation in thermogenic supplementation, BLOODSHR3D War!
BLOODSHR3D is jam packed with all the ingredients you need to get ripped in two matrices that will deliver results. The Extreme Energy, Focus and Thermogenic Matrix features a potent 1-2 punch with Eria Jarensis and J. Regia. Since Olympus Labs uses only the most pure and potent extracts a full serving of these ingredients in BLOODSHR3D will hit hard and elicit an insane amount of energy and focus. It will also kick start the fat burning process because these two ingredients act upon the central nervous system to induce thermogenesis.
With the thermogenic engine in overdrive, let's slam on the accelerator with The Maximum Lipolysis Activation Blend. It consists of 250mg caffeine, 1,000mg of Green Coffee Bean Extract, 100mg Rhodiola Rosea, 400mg Rutin and 100mg Vanillin. The constituents of this blend will work in tandem to stimulate energy metabolism and promote fat loss to get you shredded!



BLOODSHR3D is a powdered fat burner and Olympus Labs understands that flavor is important and we are committed to provide a delicious drink that will make getting shredded a breeze! However, BLOODSHR3D is not just a tasty drink, it is primarily a thermogenic powerhouse designed to incinerate fat just like its sister product, IGNIT3. One serving is split into a 2 scoop serving size for ultimate dosing flexibility. Even at 1-1.5 scoops, BLOODSHR3D has adequate amounts of each ingredient to yield results, which if dosed in that manner would yield 45-60 servings. Olympus Labs' motto of Innovation, Value and Results in action!
Similar to IGNIT3, BLOODSHR3D will produce intense energy and focus from The Extreme Energy, Focus and Thermogenic Matrix. The energy and focus is so explosive, BLOODSHR3D can also be a non-pump pre-workout. Furthermore, it will IGNIT3 your thermogenic furnace to commence the fat burning process. The Maximum Lipolysis Activation Blend builds off of this momentum to further burn fat via enhanced energy metabolism.