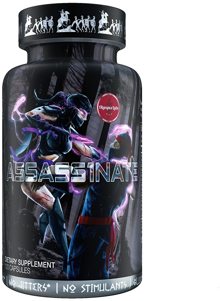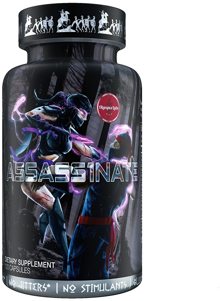 Olympus Labs Assass1nate 120caps
We've all been there: you want to lose weight so you cut your calories and your carbs, only to find yourself sluggish and tired. You pump yourself full of stimulants to get through the day, but then you can't sleep at night. Low on sleep, your willpower is weak and you indulge in a calorie bomb. How do you break this vicious cycle? Thankfully Olympus Labs has a solution, with a powerful non-stimulant fat burner: Assass1nate. This potent supplement is the ultimate weight loss tool, both functioning as a thermogenic agent to mobilize and burn fat and a nutrient partitioner to prevent further body fat accumulation. Each serving of Assass1nate is loaded with Dihydromyricetin and Trans-Tiliroside which ignite the thermogenic process. Thermogenesis works by raising your body's core temperature so that your body has to burn more calories to compensate for the temperature change, leading to an overall increase in calories burned. Plus, Assass1nate functions as a GDA (Glucose Disperal Agent), meaning that you will be able to eat carbohydrates without worrying about sabotaging your diet! The myth that carbs make you fat came about because of the fact that your body converts excess glucose (derived from carbs) into body fat, which can lead to an increase in body fat stores. With Assass1nate, excess glucose is shuttled directly to your muscles for energy, meaning that you will see an overall reduction in the amount of fat on your body. This means that you won't have to eliminate carbs on your diet, giving you more energy and a complete nutrition profile so you can soar to success. Plus, Assass1nate is also an extremely effective appetite and craving suppressant, meaning that you can conserve your valuable willpower for when you really need it. If you want to lose weight or improve your body composition, you don't have to do it alone! Get yourself the ultimate weight loss partner that will eradicate your fat – you need Assass1nate. Order your bottle of Assass1nate by Olympus Labs today and get ready for the best physique of your life!
Highlights
Non-stimulant fat burner
Nutrient partitioner
Extreme thermogenic agent
Supports weight loss
Reduces blood glucose
Controls cravings and appetite
Increases fat loss
Directions and Dosage
Olympus Labs recommends taking 2 capsules twice daily before your largest carb meals of the day. Do not exceed 4 capsules in a 24 hour period; increasing dosage will not improve results.
Ingredients and Label
Supplement Facts
Serving Size: 4 Capsules
Servings per container: 30
Amounts per serving %DV
Hovenia Dulcis: 700mg
(Dihydromyricetin 90%)

Rosa Canina: 500mg
(Trans-Tilroside 5%)

Rosmarinus Officinalis: 500mg
(Carnosic Acid 20%)

Orthosiphon Stamineus: 300mg
(70% Ethanolic Extract)

Oleoylethanolamide (OEA): 200mg

Olive Leaf Extract: 150mg
(Standardized to 20% Hydroxytyrosol) (Yields 30mg Hydroxytyrosol)

Lutein (20% Extract): 125mg

*Daily Value (DV) Not Established

Other Ingredients: Cellulose, Gelatin, Silica, Magnesium Stearate, FD&C Blue #1, FD&C Red #40
Warnings and Side Effects
KEEP OUT OF REACH OF CHILDREN. Not for use of persons under the age of 18. Do not use if you are currently breast feeding, pregnant or plan to become pregnant. Keep out of reach of children. Consult your doctor prior to use if you have any medical conditions or if you are taking any other medications. Discontinue use immediately if you experience rapid heartbeat, dizziness, vomiting or other similar symptoms.