Quick Links to Best Prices Price History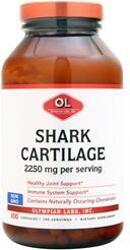 Olympian Labs Shark Cartilage
Benefits of Shark Cartilage
Olympian Labs Shark Cartilage is a high quality, near-odorless supplement extracted from the heads and fins of sharks. Shark Cartilage may help manage everyday wear and tear of healthy joints.* The major compounds in shark cartilage are proteoglycans and glycoproteins.
Supports healthy joints.*
Promotes a healthy inflammatory response in relation to exercise.*
Glucose Free, Soy Free.