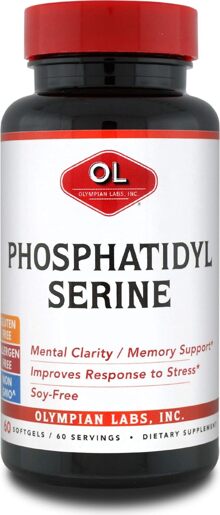 Olympian Labs Phosphatidylserine Complex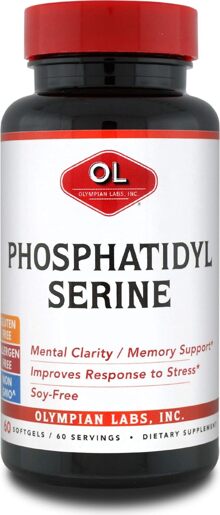 Olympian Labs Phosphatidylserine Complex
Phosphatidylserine Complex by Olympian Labs helps to support overall brain health and memory functions. By supplementing with phosphatidylserine you may actually be able to increase memory, concentration and focus. As we age memory recall becomes less and less even the little everyday normal tasks get forgotten.

Phosphatidylserine increases brain glucose metabolism and helps to reduce high cortisol levels that impair brain function. High cortisol levels over long periods of time can slow and even alter normal brain functions. By increasing glucose metabolism you keep cortisol levels low and brain health at an optimal level.

Supplement Facts:
Serving Size: 1 Softgel
Servings Per Container: 60

Amount Per Serving:
Phospholipids 500mg †
Phosphatidylserine (Soy Phospholipid) 20-22% †
Phosphatidylcholine (Soy Phospholipid) 14-18% †
Phosphatidylethanolamine (Soy Phospholipid) 10-12% †
Phosphatidylinositol (Soy Phospholipid) 7-10% †

Essential Fatty Acid Blend 748mg †
Caprylic Acid, Linoleic Acid, Capric Acid, Oleic Acid, Palmitic Acid, Linolenic Acid, And Stearic Acid.

† Daily Value not established

Other Ingredients: Gelatin, Glycerin, Borage Oil, Water

Suggested Use: As a dietary supplement, take one (1) to two (2) softgels daily, preferably with meals, or as directed by a healthcare professional.

* These statements have not been evaluated by the Food and Drug Administration. This product is not intended to diagnose, treat, cure, or prevent any disease.

i-Supplements has this and other great Olympian Labs Supplements on sale for low prices.