Quick Links to Best Prices
180 Grams
(Buy 1 Get 1 FREE)
90 Grams
(Buy 1 Get 1 FREE) Price History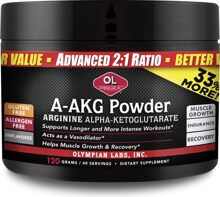 Olympian Labs A-AKG Powder
Customize Your Dose Get What You Want
PURE ARGININE
Supports Longer and More Intense Workouts*
Acts as a Vasodilator*
Helps Muscle Growth & Recovery*
PURE ARGININE Alpha-Ketoglutarate
Intensify Your Performance and Build Your Foundation of Growth
Arginine is the main ingredient in any Nitric Oxide (NO) booster because it's readily converted to NO. This is the base line of why this supplement helps build muscle. With A-AKG flavorless powder you have the freedom to easily customize your own dose and since there is no flavor added, you also get to choose what liquid you add it to.
Best Dose for You: Most do well with 3-5 grams of arginine at each dosing time.
But if you haven't been seeing the results you are looking for at that dose, a 1982 study published in the Copenhagen Journal Acta Endocronologic, reported that subjects who took about 115 mg of arginine per pound of bodyweight, (about 20 grams per day for a 180-pounder) supported their nighttime growth hormone levels.*
You may want to do the math and find what the optimum dose is for your body weight to support your growth hormone levels.*
Why is Arginine Alpha-Ketoglutarate Better?
Olympian Labs A-AKG, (Arginine alpha-ketoglutarate) is arginine bonded to alpha-ketoglutarate (AKG) 2:1 ratio. Since AKG is readily absorbed by the intestines and taken up by muscle cells, it helps reduce the chances of stomach issues or the need to rely on insulin to get arginine into your muscle cells.
SUPPORTS
MUSCLE GROWTH
Research shows arginine alpha-ketoglutarate supplementation helped subjects add an average of 13 pounds to their bench press.*3
Arginine Alpha-Ketoglutarate is a Nitric Oxide (NO) inducer, which may help support a reduction in body fat, more muscle mass, and greater energy.* Studies suggest arginine alpha-ketoglutarate has a positive effect on increasing base levels of growth hormone. Since arginine is the foundational element of nitric oxide, it can be safely theorized that arginine support levels of nitric oxide (resulting in vasodilation) and growth hormone.*4
ENDURANCE
Arginine supports energy by being a key factor in the production of creatine. Creatine helps drive muscle power output by re-fueling ATP during short bursts of intense training.*1,2
RECOVERY
Arginine supports muscle tissue repair and growth by helping to process the ammonia created by intense muscle activity and create glutamine. It is also a key signaling agent in activating muscle protein synthesis.*5,6
WHEN TO TAKE IT
Timing is everything with Arginine!
Pre-Workout
You want to give the arginine time to get into your system to help increase your blood flow and get a greater pump during your workout. Depending on your metabolism, your optimal timing will land between 30 – 45 minutes before your workout to maximize the boosted NO Levels, which in turn dilates your blood vessels to deliver more oxygen, glucose, amino acids, and anabolic hormones to your muscles.*
Daily
If your goal is to achieve continued muscle growth and support growth hormone levels you should consider taking one dose in the morning and one before bed.*
Post-Workout
Taking A-AKG post-workout offers a wide range of benefits, which include: keeping your NO levels high, continued muscle growth support, promoting growth hormone levels, and it supports muscle repair.*
Take Note, This Product Is:
ALLERGEN FREE
NO: Milk, Eggs, Fish, Crustaceans shellfish, Tree Nuts, Peanuts, Wheat, or Soybeans
In the United States, the Food and Drug Administration (FDA) requires food manufacturers to list the 8 most common ingredients that trigger food allergies. The ingredient that's at the top of all of these lists? Milk proteins.
No surprise, you've heard this over and over again. Followed closely by soy, wheat, shellfish & peanuts to name a few. All of these land on the "watch out list!"
Why is this important you ask? It's well documented that allergens, like milk proteins, can cause your immune system to go into overdrive!
GLUTEN FREE
Gluten-free products exclude gluten, a protein composite found in wheat and related grains, including barley and rye.
1. Ban, H., K. Shigemitsu, T. Yamatsuji, M. Haisa, T. Nakajo, M. Takaoka, T. Nobuhisa, M. Gunduz, N. Tanaka and Y. Naomoto.2004. Arginine and leucine regulate p70 S6 kinase and 4E-BP1in intestinal epithelial cells. Int J Mol Med. 13:537-543.
2. Rhoads JM, Chen W, Gookin J, Wu GY, Fu Q, Blikslager AT, Rippe RA, Argenzio RA, Cance WG, Weaver EM, and Romer LH. Arginine stimulates intestinal cell migration through a focal adhesion kinase dependent mechanism. Gut 53: 2004:514-522.
3. International Society of Sports Nutrition Conference Proceeding. Sports Nutrition Review Journal, 1:S1-11, 2004
4. Nagaya N, Uematsu M, Oya H, Sato N, et al. Short-term oral administration of L-arginine. Am J Respir Crit Care Med. 2001; 163: 887-891.
5. Hamilton, DL and Baar, K. Muscle growth: no IGFs, ands, or buts. J Physiol 2008;586:5-6.
6. Kimball SR and Jefferson LS. Molecular mechanisms through which amino acids mediate signaling through the mammalian target of rapamycin. Curr Opin Clin Nutr Metab Care 7: 39-44, 2004.