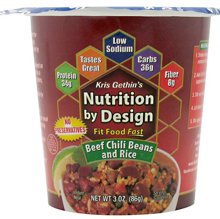 Nutrition By Design Fit Meals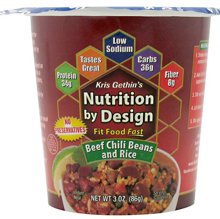 Nutrition By Design Fit Meals
Swipe left/right to reveal product information
The Fit Meals Breakthrough!
Amazing taste
Very convenient
No refrigeration required, ever
Goes anywhere you go
Designed to make your life easier
Nutrient packed
High-protein, low-fat
Backed by expert and author Kris Gethin
Getting the best nutrition is essential for your body building results. Check out what Fit Meals can do to change your approach to food. It's time to say goodbye to tasteless meal replacements and take a look at what Fit Meals can do for you. These delicious full meals offer exceptional nutrition, and they are easy to use and transport. This is the Fit Meals revolution!
Fit Meals were designed from the ground up by one of the world's foremost transformation specialists, Kris Gethin, author of Body by Design. They will give you the kind of nutritional foundation your body needs to achieve exceptional results. The Fit Meals approach is about making sure that you have the necessary protein, nutrition and micronutrients to build muscle... and build it no matter where you may be. Kris designed these meals to have absolutely everything that a real athlete needs in one easy to transport package.
Want to build more muscle, get the nutrition you want, and have it all in the palm of your hand? Fit Meals can do this for you and a whole lot more!
Put Kris Gethin's Substantial Expertise to Work for You
Kris Gethin made waves with his breakthrough book Body by Design, which sparked something of a revolution. His 12-week diet and exercise program has been so successful that it is supported by a whopping 2 million members. Further, thanks to Body by Design, thousands of people have transformed their body and their health.
Gethin has helped thousands of people learn how to transform the way they eat and supercharge their metabolism in the process. Now, Kris has put his considerable knowledge base and record of success into Fit Meals. Thanks to Kris' input, Fit Meals provides you with the kind of nutrition that you need to transform your body. Kris' goal has always been to help as many people as possible, and with Fit Meals he has a new and powerful avenue for doing just that! It is no wonder that so many people are simply falling in love with Fit Meals!
Expert Nutrition, Thanks to Body by Design Author Kris Gethin
Fit Meals has put all that Kris Gethin knows into this incredible product line. As a result, Fit Meals are low in calories, low in fat, and low in sodium. But they are absolutely packed with protein, vitamins and minerals. Our Beef Chili Beans & Rice Fit Meal is only 330 calories with 50 calories from fat, but it has a whopping 34 grams of easily digested protein. It is also loaded with vitamin A (30%), vitamin C (30%), calcium (10%) and iron (40%).
Imagine getting all the protein and loads of vitamins and minerals in a low-calorie, low-fat and low-sodium package that goes anywhere and is easy to prepare. This is exactly what we've accomplished with Fit Meals.
We have combined the exceptional nutritional foundation of Fit Meals with great convenience. After all, a meal that is difficult to transport or has to be kept refrigerated makes your life and your fitness goals more difficult to reach. This approach doesn't match your lifestyle. We get it, and we understand what you need. This is why we fused two key aspects together, your nutrition needs and a complete convenience into one exceptional product.
Every aspect of Fit Meals has been taken into consideration. Our goal wasn't just to create a muscle building and nutritional product, but it was also to create such a product that we would use ourselves and that could be used virtually anywhere and at any time. And we didn't forget about taste either!
To Get Results Fit Meals Carefully Blended the Following Three Factors Together
An exceptional nutritional foundation designed to give you the protein and energy you need.
Great tasting meals you want to eat all the time!
Easy to use and transport.
Great, Easy Meals That Go Anywhere!
People love Fit Meals. Once you've tried them for yourself, you'll instantly understand why. These are dry meals that have been carefully created to be full of flavor and packed with the kind of nutrition that you need. Gone are the days of taking frozen meals with you wherever you go, and gone is the inconvenience of cooking, packaging and transporting meals in clunky containers that could spill!
The Amazing Convenience of Fit Meals
No refrigeration needed
Lightweight and easy to transport
Designed to be tossed in a suitcase or kept in your desk drawer at work
Easily fits in your backpack
Make a hot, protein packed, low-calorie meal any time and anywhere
Perfect for post workout meals
No water means they pass right through security at the airport
Fit Meals offer more than great taste, they offer variety. After all, let's face it. Shakes get boring. But with Fit Meals, you don't have this problem. Flavor-infused Fit Meals go anywhere you go. If you are tired of the day of lugging around frozen meals or bulky packaged meals, then those days are truly a thing of the past, thanks to Fit Meals! We have designed our meals to be eaten anywhere. Want to be liberated from the shakes, the frozen meals and carrying around containers? Are you too busy to cook your own high-quality, protein-rich meals; the kind of meals that build powerful muscle and build it fast? Then this is the solution for you-Fit Meals.
Here are a few of the ways that you can put the power of Fit Meals into action for yourself.
Fit Meals Go Anywhere You Want to Take Them
At Work
Just keep a few Fit Meals in your desk for a quick, nutrient and protein packed tasty meal when you need it.
At a Job-Site
If your job requires you to be out of the office and traveling, simply take a lightweight and easily transported Fit Meal with you. You'll have the kind of meal that your body needs anywhere you are. Sounds good, right? We thought so too, and that's we why we created this versatile meal system.
At The Gym
Want to get the most out of your workout? Since they are easy to transport and don't require refrigeration, you can have a power packed Fit Meal after each and every workout!
In the Great Outdoors
Camping, biking, hiking or just enjoying nature has never been easier. Anyone who ventures out into nature knows that every ounce of weight counts. Now, with Fit Meals, you can enjoy the great outdoors on your terms and have the kind of meals you need, protein-rich low-calorie meals, at your fingertips.
After Sports
Need a fast and protein packed meal after playing a round of golf, a pickup game of basketball or any other sporting activity? Then you'll absolutely love having the flavor rich taste of Fit Meals on hand and waiting for you!
While Traveling
Fit Meals are simply incredible for health conscious people and bodybuilders while traveling. Thanks to Fit Meals, the old days of worrying about your diet while traveling or struggling to find an appropriate meal while traveling is done, gone and over! Fit Meals have been designed to easily fit in your travel bag or suitcase and the end results are amazing. The stress of traveling is dramatically reduced thanks to Fit Meals. Now you'll always have the right kind of meal handy no matter where in the world you are!
Taste and Your Diet-An Often Overlooked Factor
Want to keep building muscle? Want to keep your fitness and bodybuilding goals headed in the right direction? Fit Meals was designed with you in mind. You've probably noticed that many fitness and bodybuilding meal and meal replacement options focus only on the nutritional makeup of the product. There is no doubt about it we here at Fit Meals were completely obsessed with all things, nutrition as you can probably tell by now, but we also realized something of critical importance. Let's call it the flavor factor!
Obsessed with Nutrition and Flavor!
Whether it is a dieter looking to drop the pounds or a bodybuilder looking to pack on muscle, there is a universal truth that they share, and it's a powerful one. If you want to stay on your diet, you need flavor and your need taste. The best nutrition in the world will do you no good at all if you don't eat it! We always kept this fact in mind when we were designing Fit Meals.
We were obsessed with the fact that our meals would have extraordinary taste. We wanted to create nothing less than the kind of meals that non-bodybuilders would love to eat and would eat often. Did we succeed? In short, you bet!
Protein, Nutrition and Flavor in Each and Every Bite
No matter how dedicated and how determined you are to create the kind of body that you want, it is essential that you don't ignore the pleasure of taste. Can you have your cake and eat it too? That is what we are all about here at Fit Meals.
We created protein-rich, vitamin and mineral packed meals that are low in calories, fat and sodium but completed packed with flavor. Everyone at Fit Meals knew that our meals needed to give you that extra edge that you needed and to give you that edge we knew our meals needed to be flavor-packed. This is why every Fit Meal undergoes quality control and is designed to not just fuel your body but to also fuel your taste buds as well!
Fit Meals are the direct route to getting the body you want. If you want an easy meal that will give you the kind of nutrition you need, then this is it! Fit Meals have everything you need including great convenience and great taste! Supercharge your metabolism, get the nutrition and protein that you need and watch your progress soar, all thanks to this breakthrough and easy to use meal system-Fit Meals. Join all the people who've already discovered what Fit Meals can do.