Quick Links to Our Prices Price History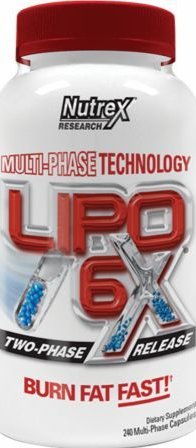 LIQUID MULTI-PHASE TECHNOLOGY*
TIME RELEASE CAPSULE FORMULA
BURN FAT FAST*
2009 FAT LOSS PRODUCT OF THE YEAR
LIPO-6X
LIPO-6X is an advanced fat burner using a new and unique liquid MULTI-PHASE technology. This unique MULTI-PHASE technology combines rapid liquid capsule delivery with controlled-release inside capsule technology. What this means is that LIPO-6X is a fat burner that has multiple release phases, both fast and extended.*
PHASE #1: RAPID RELEASE LIQUID CAPSULE
The outer liquid capsule of LIPO-6X ensures a rapid uptake of its fat-burning and energy-promoting ingredients.* *
PHASE #2: CONTROLLED AND EXTENDED RELEASE INSIDE CAPSULE
Unlike standard fat-burning formulas, whose effects come and go quickly, LIPO-6X continues to work for you over an extended period of time. By selectively putting some of the ingredients in the form of pellets into a separate capsule, that sits inside the liquid capsule, the absorption rate can now be controlled. This greatly extends the amount of time these ingredients are active, which means that LIPO-6X continues to work for you longer.*
LIPO-6X is the first fat burner that offers speed and duration. A quick and rapid onset of its fat-burning effects, combined with a controlled and extended release, will ensure maximum results. Furthermore, LIPO-6X is now utilizing all natural vegetable capsules.*
WHY IS LIPO-6X SO EFFECTIVE?
LIPO-6Xis nothing less than revolutionary and flat-out rocks the fat loss world. This unique multi-phase fat burner can help you get shredded beyond your wildest dreams. When we look at the ingredients in LIPO-6X we will truly understand why this fat burner is in a league of its own. Herbal compounds, as found in other fat burners, can be inferior and are oftentimes not as efficiently absorbed by the human body. With its pure pharmaceutical grade components LIPO-6X allows for a more consistent and predictable fat-loss effect.* This is what you will find in each powerful serving of LIPO-6X.*
Synephrine HCL (20mg)
Synephrine activates beta-3 adrenoreceptors and displays a lipolytic and thermogenetic capacity as it boosts norepinephrine levels. By consuming synephrine prior to workouts, you enhance fat breakdown with its subsequent utilization for energy.* Furthermore, synephrine has a muscle-sparing effect while expending energy at the expense of body fat.* Synephrine also supports appetite control, making it the ideal compound for calorie-restricted diets.*
Yohimbine HCL (3mg)
Yohimbine is just right for the thermogenic concoction in LIPO-6X to help support lipolysis, the burning of stored fat.* Yohimbine works by blocking the alpha-2 receptors. Blocking the action of the alpha-2 receptors is important for fat loss because it increases blood flow in adipose tissue, which in turn may help reduce fat storage.*
Synthetic Acacia Rigidula Mimicking Complex (100mg)
Acacia Rigidula is a rare, natural compound that consists of several different alkaloids (active constituents). The most powerful alkaloid in Acacia Rigidula and most important one is Phenylethylamine. Phenylethylamine is a very clean stimulant. Moreover and most importantly it has the ability to support the metabolic rate and inducing a strong thermogenic effect through the conversion of fats into heat.*
Phenylethylamine HCL/N-Methyl-B-Phenylethylamine
This synthetic combination is designed to mimic the effects of natural Acacia Rigidula. As an efficacious and very clean central nervous stimulant and mood enhancer, Phenylethylamine can support your metabolism and optimize stored fat utilization for energy.*
Tyramine HCL
Tyramine is a complimentary ingredient to further induce thermogenesis and get those extra calories burning. Tyramine induces the release of norepinephrine, supporting metabolic rate and promoting energy expenditure.*
Hordenine
Hordenine also has the ability to liberate norepinephrine stored in your body to promote a faster metabolism and support the burning of unwanted body fat.*
Caffeine Anhydrous (200mg)
Caffeine, with its capacity to optimize skeletal muscle contraction has demonstrated its ability to enhance strength gains and increase work volume. While allowing you to work harder caffeine also boosts your metabolism, assisting in body fat loss. Caffeine also improves mental alertness and supports mood function, optimizing your level of focus through your workouts or fatigue-battling tasks.* By providing caffeine in its anhydrous form, you're getting a pure and synthetic form for maximal potency.*
Synthetic 99% Guggulsterones Z & E 1:1 (20mg)
E- and Z-Guggulsterones are the bioactive compounds of Guggul (Commiphora Mukul). Guggulsterones have the capacity to rev your metabolism by increasing the overall thyroid hormone activity with significant influence on triiodothyronine (T3) hormone (thyroid regulator).*
LIPO-6X is for the serious athlete only who wants to get that ultimate shredded look. Due to its extreme strength, caution is advised and the dosage as recommended on the label should never be exceeded.