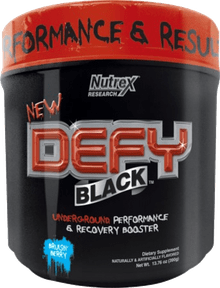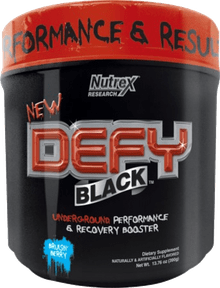 Product Highlights
Boosts Performance When Taken During Exercise (Intra Workout)*
Helps Deliver Explosive Strength and Endurance*
Swells Muscles with the Ideal Muscle-Building Nutrient Mix*
Stimulant Free!
Underground Performance and Recovery Booster
DEFY – By definition: To challenge, resist or dare not succumb to genetic limitations.
Defy Black is your perfect intra workout formula to be consumed while you train. Its research proven blend of the essential branched chain amino acids L-Leucine, L-Isoleucine and L-Valine along with L-Glutamine, Creatine and Taurine rebuilds, restores and swells muscle bellies with the ideal muscle-building nutrient mix. This blend also delivers essential electrolytes to swiftly recharge and deliver explosive strength and endurance during heavy training. Defy Black helps you go beyond your limitations and it does so without the use of any stimulants.*
Not only is Defy Black great for intense workout sessions but also recommended for consumption in between meals so your muscles stay well nourished and hydrated throughout the day. With its mouth watering taste, one scoop of Defy Black will make your drink burst with flavor and quickly feed your muscles for better and faster results.*
Frequently Asked Questions
Im using Lipo 6 trying to shed lbs.. Would it benefit me to use defy in my workouts?
Yes, taking Defy during your workouts supply's your body with the nutrients needed to help stay in an anabolic state while training and can help increase recovery time.*
Would this be good to take right after a workout with protein?
Yes, consuming Defy during and/or immediately following your workout can quickly shuttle the vital amino acids and nutrients your muscles need for recovery and growth. If you were to take them together, we suggest consuming Defy prior to your protein shake.*
Does this product have lactose in it?
Defy does not contain lactose.
Can this product be used by women?
Yes, Defy is non-hormonal and is safe to be taken by both men and women.
Should I stack this with Niox?
Absolutely. Taking Niox pre-workout and sipping on Defy during can provide great workout by helping to increase muscle pumps, stamina and enhance muscle recovery.*
Does Defy contain any carbs?
There are no carbs in the formula.