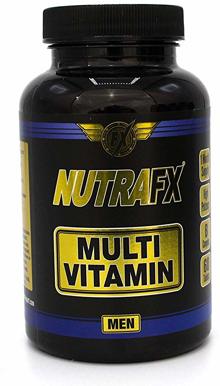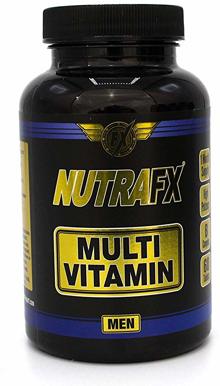 BOOSTS FITNESS GOALS - Nutrafx multivitamins for men boosts your fitness goals as well as improves muscle recovery. Our bodybuilding supplements are formulated specifically for your nutritional demands to help fine-tune your fitness goals without compromise. They help your endurance, circulation, recovery, muscle repair and muscle growth.

PROMOTES ENERGY AND VIRILITY - Your energy levels will increase to support your active lifestyle so your get-up-and-go energy is back. Sluggishness disappears and your spirits elevate to keep you moving throughout the day with ease. Our supplements support the health of your male virility so you feel like yourself again!

INCREASES OVERALL HEALTH - Our multivitamins are designed specifically for the nutritional needs of active men. You get the highest quality ingredients which include 21 essential vitamins and minerals along with 13 additional ingredients to support your overall health. It supports your immune system, defends against cell damage, relieves your stress, and enhances the digestion of all the nutrients you take in.

MADE IN USA AND SAFE - You have peace of mind knowing our multivitamin supplements are proudly made in the USA in our own state of the art cGMP and NSF certified facility under strict FDA guidelines. Plus, these easy to swallow multivitamins leave no aftertaste, will not upset your stomach, and have no side effects. And, you only take 2 tablets each day preferably with a meal.

SATISFACTION GUARANTEED - Your overall health and well-being are as important to us as they are to you! That's why we offer a 100% money back guarantee if you're not completely satisfied. Simply let us know and we will promptly refund your money, no questions asked. For more information, please read the product description below.
More