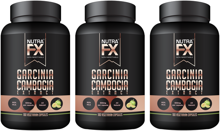 NutraFX Garcinia Cambogia Extract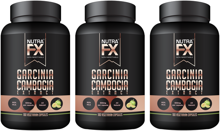 NutraFX Garcinia Cambogia Extract
ATTACK THE FAT FROM EVERY ANGLE: Not only does the Hydroxycitric Acid (HCA) in Garcinia Cambogia extract block your body's production of fat cells, it also works to reduce the cravings experienced by many overeaters. This one-two combo has turned this tropical fruit grown in Southeast Asia into today's most popular diet pill.

PURE AND POTENT: Garcinia Cambogia from Nutrafx gives you 500 mg of HCA per bottle, plus calcium and potassium to maximize your body's absorption. We include 180 HCA capsules per bottle – a two-month supply! That's 25% more than other leading brands.

INHIBIT FAT PRODUCTION: The HCA in these natural weight loss supplements has been extensively studied for its ability to block the production of citrate lyase, the enzyme that causes your body to produce more fat. This combined with HCA's ability to increase serotonin levels in your brain and stimulate the digestion of carbohydrates makes Garcinia Cambogia superior to other weight loss products.

PAINSTAKINGLY MANUFACTURED: At Nutrafx, we're on a mission to bring you the highest quality supplements we can find. Like all our products, our Garcinia Cambogia is manufactured in a state-of-the-art facility that strictly adheres to GMP standards and quality control protocols. In English: We do our best to ensure that every pill in every bottle contains the same pure ingredients.

100% SATISFACTION GUARANTEE: We want to ensure that you're 100% happy with each product you purchase from Nutrafx. So if at any time you're not satisfied with your Garcinia Cambogia, just return your unused portion for a refund or replacement. It's that simple! So if you're looking to lose weight naturally, safely and quickly, add your six-month of supply of Garcinia Cambogia to your cart today!
More