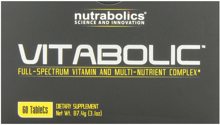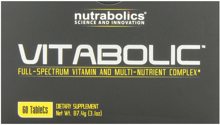 Support
Metabolism*
Constant Supply
of Vital Nutrients*
Optimize Peformance,
Health, and Energy*
COMPLETE ATHLETIC NUTRITION
Millions of chemical reactions are taking place daily within every cell of your body. From building muscle to burning fat, your metabolism is governed by the presence or absence of a complex array of vitamins, minerals, electrolytes and various co-factors. While most athletes maintain adequate macro-nutrition during training, many do not consume the micro-nutrition needed to maximize health, performance, and results.
VITABOLIC is a highly concentrated full-spectrum multi-vitamin and micro-nutrient formula designed specifically for bodybuilders and athletes who push their anabolic and metabolic processes to their limits. This dense supervitamin has your micro-nutritional needs covered from A to Z. Guard against nutrient deficiency by supercharging your body's microscopic processes with VITABOLIC.*
UNCOMPROMISING
NUTRIENT QUALITY
VITABOLIC addresses the need for athletes to consume nutrient-dense foods and supplements on a daily basis. With VITABOLIC, Nutrabolics formulated the most nutrient dense, biologically active micronutritional supplement in the industry – not because it's a luxury, but because it's a necessity! Each serving is loaded with everything your body needs to help build muscle and lose fat. On top of the most absorbable forms of vitamins, minerals, electrolytes, co-factors and various enzymes, each serving contains premium freeze-dried extracts of greens and berries! These substances are suggested to support optimum health, and fight free-radical oxidation. In terms of biological activity and potency, VITABOLIC is second to none.*
POWERFUL ANTI-OXIDANTS
AND MICRONUTRIENT SUPPORT
VITABOLIC delivers high-potency ingredients for nourishing the body and helping reduce oxidative stress and free-radical formation.* Boasting a blend of the most potent phytonutrients, indoles, and biochemicals, VITABOLIC is scientifically formulated to offer a whole-body nutritional solution to combat the problem of cellular decay. Each serving of VITABOLIC contains the nutritional equivalent of eight servings of both fruits and vegetables combined. Along with this broad spectrum of vitamins and minerals, VITABOLIC offers immune system- protecting herbal extracts and cell-boosting essential fatty acids.*
HIGHLY EFFECTIVE ABSORPTION
Nutrabolics researchers ensured the VITABOLIC formulation would contain only Bisglycinate Chelated minerals, which are by far the most absorbable form of mineral, yielding the most efficient integration and rapid effects on your biological systems.*
CONTAINS FREEZE-DRIED INGREDIENTS
FOR MAXIMUM POTENCY
Premium freeze-dried extracts of greens and berries are the only researched forms that are science-backed for supporting optimum health, and fighting free radicals.* Freeze drying removes water from fruits and vegetables while preserving the biologically active antioxidants and phytonutrients.
VITABOLIC CONTAINS AN ADVANCED "CAROTENOID COMPLEX", WHAT'S THAT AND WHY IS IT IMPORTANT?
Carotenoids are a class of natural fat-soluble pigments found principally in plants and algae. In humans, carotenoids play a critical role in protecting cells against free-radicals formed during exercise, fat oxidation (i.e. burning) and other metabolic processes.* In fact, the most notable of the carotenoids supplied in VITABOLIC is the patented BioAstin, an ultra- powerful antioxidant derived from deep ocean microalgae. Clinical trials suggest BioAstin to possess 550 times the antioxidant power of vitamin E and 10 times that of beta-carotene.*
WHY ARE VITAMINS CRITICAL FOR BODYBUILDING?
While most athletes understand the importance of proteins, carbohydrates, and fats, many fail to realize the true value and necessity of micronutrients, antioxidants, and phytochemicals; all of which play a crucial role in developing greater mass, losing more fat, and boosting recovery and performance. If you're not healthy enough to train, you're not able to gain. If you can boost immunity and overall health, you will make gains steady all year long with no setbacks. It's for this reason that top pro bodybuilders take megadoses of various vitamins, minerals, herbs and digestive-health probiotics. Much like our elite superfood supplement ATHLETE'S FOOD, VITABOLIC addresses the need for athletes to consume nutrient-dense foods and supplements daily in order to realize the long-term goals of increased strength, size, and performance. If your diet isn't filled with every single nutrient you need, you are robbing yourself of the gains you could be getting from your training. If you workout for 1 hour per day, 4 days per week, you're investing 208 hours each year to build muscle and lose fat! If you become nutrient deficient, you will simply not make the same progress as your competitor who ate right and took VITABOLIC every single day.* Nutrition really is the make or break factor trumping training and genetics.
WHAT ARE BISGLYCINATE CHELATE MINERALS?
Bisglycinate Chelates are a readily absorbed forms of minerals. They are uniquely formulated with special chelates bonded to each mineral to enhance absorption and bioavailability. These help VITABOLIC replenish vital nutrients no longer found in our mineral-depleted soils. You won't find these in cheaper vitamin supplements that's for sure!*
WHO SHOULD USE VITABOLIC?
If you're a bodybuilder or other performance athlete, you need the support of VITABOLIC every single day to bolster your current diet plan.