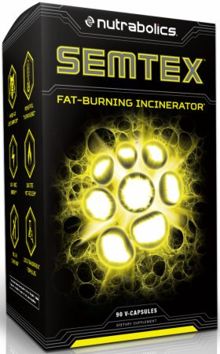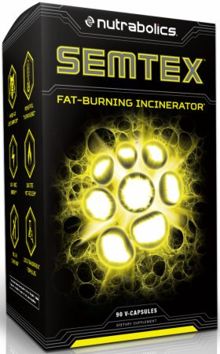 Ignite Fat-Burning Metabolism*
Key metabolic accelerators like Bitter Orange Extract (100mg) help increase the utilization of fats and carbs while lipid regulators like Black Pepper (10mg) work with other actives to reduce fat cell volume, increase lipolysis, and help suppress hunger.*
High-Intensity Thermogenic*
Caffeine Anhydrous (300mg) and Cayenne Pepper (200mg) act as powerful bio-igniters to help increase core body temperature and stimulate the release of neurotransmitters like epinephrine, which tells your body to dissolve stored fats so they can be burned up as energy!*
SEMTEX's is formulated for active synergy between it's ingredients for maximum fat burning and optimal weight-loss. Stimulants and thermogenics interact with neurotransmitter and hormone modulators to support lipid release and fatty acid consumption for a lean physique.*
Blazing Energy & Laser Focus*
Cutting-edge stims like Dendrobium (600mg) and Phenylethylamine (400mg) interact with TeaCrine to help enhance neural drive and inhibit adenosine. This effect helps support increased energy, reduced fatigue, and laser focus for superhuman performance.*
Crush Cravings & Destroy Hunger*
Healthy eating is critical to any weight-loss program, but diets can be a tough go for even the most hardened athlete. SEMTEX provides critical craving and appetite control support through actives like Cayenne Pepper (200mg) which help suppress hunger hormones like leptin.*
Euphoric Mood Boost*
Patented TeaCrine (200mg) works in tandem with other mood enhancers like Theobromine (300mg) to help provide an incredible euphoric mental boost, increase motivation to exercise, create a positive attitude, and crush food cravings during tough dieting.*
600mg
Dendrobium Nobile
400mg
Phenylethylamine HCl
200mg
Capsicum Annuum
200mg
Teacrine© / Theacrine©
300mg
Caffeine Anhydrous
300mg
Theobroma Cacao
100mg
Bitter Orange
10mg
Piperine
Scorch Fat Cells With Multi-Phase Fat-Burning
Weight loss is a complex set of interacting behavioral and biological processes that result in the precious progress you earn every day. Acting as a scientific fail-safe system, SEMTEX's exclusive multi-phase fat loss technology is designed to target and support your body to overcome the critical processes involved in a leaner physique.
When you release trapped body fat through your tough exercise regimen, SEMTEX works to naturally amplify and accelerate your metabolism to help ensure that freed fat is burned up for good. When your ultra-strict diet program has you craving sugar, SEMTEX provides the mood boost and energy needed to help push past these urges. SEMTEX acts as a comprehensive nutraceutical weapon that hits fat hard, giving you the mental and physical fortitude needed to withstand the tough grind that is the war on fat.*
600

mg

Dendrobium
Energy/Mood*
400

mg

Phenylethlamine
Focus/Mood*
300

mg

Caffeine Anhydrous
Energy/Fat Loss*
300

mg

Theobromine
Energy*
200

mg

Theacrine (Teacrine)
Energy*
200

mg

Cayenne Pepper
Energy*
100

mg

Bitter Orange
Fat-Loss*
10

mg

Piperine
Fat-Loss*
200mg
Blazing Energy*
TeaCrine inhibits adenosine, which decreases feelings of fatigue for ultra-long, powerful workouts without the habituation, or jitters of cheap stim products.*
Precision Focus*
Neural drive is critical to allow athletes to shatter their goals. TeaCrine provides laser sharp focus and concentration for superhuman performance.*
Euphoric Mood*
TeaCrine provides an incredible positive mental boost, increasing motivation to exercise, elevating mood, and helping to push past food cravings and tough training.*
Cutting-Edge Activities
Dendrobium

600mg

Dendrobium acts as a central nervous system stimulant in addition to being rich in PEA. This combination provides a very smooth energy coupled with powerful mood enhancement capabilities.*

Phenylethlamine

400mg

Increases focus, concentration and enhances mood. phenylethylamine increases the process of lipolysis through stimulating the release of catecholamine.*

Caffeine Anhydrous

300mg

Has thermogenic properties that aid in the burning of fats. Caffeine in the body leads to increases of epinephrine and norepinephrine. These two hormones signal the body to dissolve fat so that it can be available as an energy source.*

Theobromine

300mg

Theobromine is an alkaloid found in chocolate and cocoa, which acts as a mild stimulant and mood enhancer.*

Theacrine (Teacrine)

300mg

Enhances physical energy by causing adenosine- signalling changes similar to caffeine but with longer lasting results. It also acts as a dopamine antagonist which enhances physical energy even further.*

Cayenne Pepper

200mg

Increases metabolic rate and boosts the secretion of catecholamines to help burn fat while suppressing appetite. Acts as a bio-igniter to rev-up body temperature via thermogenesis.*

Bitter Orange Extract

100mg

Increases lipolysis and metabolic rate to burn up stored and incoming body fat. It also works as a potent appetite suppressant to help tackle tough cravings and diet hunger.*

Piperine

100mg

Aids in decreasing the size of fat cells, improves cholesterol levels, suppresses leptin and lipase (the hormones that help regulate hunger), acts as a thermogenic, and boosts metabolism.*
Shred All Season Long
When winter comes you should just give up your summer shred for a bulking body right? Not a chance! You worked hard for every fibre of muscle gained and every ounce of fat lost. When everyone else is letting things slide during bulking season and beyond you need to firm up your resolve and go hard with SEMTEX fat-burning incinerator! Weather to stay lean during bulking season or to dial-in for that summer beach body, SEMTEX helps burn fat all-year round. This all-in-one nootropic/thermogenic shredding supplement attacks fat from every angle, arming you with the perfect weapon to say NO to an "off"-season body and ensure you are always on.*
"SEMTEX gives me the mood boost and thermogenic kick to keep my metabolism in check, regardless of how tough the diet or what time of the year it is. Its unlike anything I've experienced before.
SEMTEX is the difference when it comes to fat-burning."
Henri-Pierre Ano - IFBB Pro Bodybuilder
#ALWAYSONSEMTEX
We Are Innovation