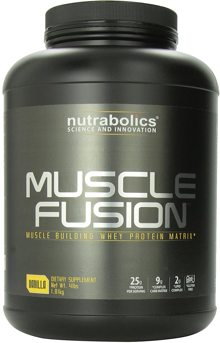 Nutrabolics Muscle Fusion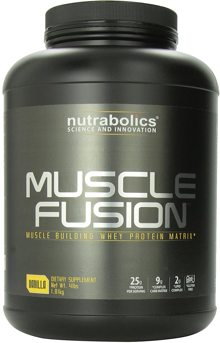 Nutrabolics Muscle Fusion
*Designed to:
Accelerate Recovery*
Extend Muscle Anabolism*
Support Huge Gains in Muscle and Size*
2
g
*LIPID
COMPLEX
25
g
*PROTEIN
PER SERVING
9
g
*COMPLEX
CARB MATRIX
NOURISH HUNGRY MUSCLES
MUSCLE FUSION was designed to combat nutrient deficiency by providing you with a steady, time-released supply of protein, carbs, and essential fats that will power your body and keep you anabolic for hours! MUSCLE FUSION achieves this through 3 innovative nutrient supply systems. A Penta-Stage Amino Acid Enhanced Protein Matrix drives this formula's core anabolic power while a timed-release complex carb matrix helps to maintain a steady supply of glycogen. MUSCLE FUSION also includes SUPERFATS to provide nourishing fatty acids and ignite fat-loss support.
If you are looking for an all-in-one supplement that supports sustained endurance and muscle growth while proactively working to prevent nutrient deficiency, look no further.*
POWER YOUR REPS AND ACCELERATE MUSCLE RECOVERY*
MUSCLE FUSION's multi-stage complex carb matrix is made of organic oat fiber, organic oat bran, flax seed powder and other fortified carb sources.
This critical component time-releases after you consume it, allowing for slow and consistent blood glucose levels and continuous glycogen formation. This steady supply of glycogen will keep your body slamming out reps long after your brain has told you it's time to quit!
INCREASE YOUR ANABOLIC ENDURANCE
MUSCLE FUSION contains our cutting-edge Penta-Stage Sustained-Release Amino Acid Enhanced Protein Matrix, which provides your body with premium fast and slow releasing protein isolates. Rapid-release proteins, such as whey protein isolate, are complemented by slower-digesting proteins like casein hydrolysate. The overall action of these proteins results in a constant nourishment of your muscle tissues and a hyper extended 8 hour period of muscular growth.
This innovative matrix is also enriched with added aminos like the Branched Chain Amino Acids (BCAAs) L-Leucine, L-Isoleucine, and L-Valine, which further stimulate protein synthesis and muscle recovery.
OPTIMIZE PROTEIN SYNTHESIS
When searching for a protein supplement that will support your personal goals, you will often be let down by other products that contain either basic proteins or isolates of inferior quality.
MUSCLE FUSION contains only the purest, most premium sources of protein, including Whey Hydrolysate, Cross Flow Microfiltered Whey Protein Isolate, Milk Protein Isolate, Whey Concentrate, and Micellar Casein.
SUPPORTS NUTRIENT SPARING
MUSCLE FUSION contains Nutrabolics signature lipid-based fat-loss support formula - SUPERFATS. This advanced healthy fats matrix provides essential fatty acids like CLA and Sesame Seed Extract that spare the use of proteins and carbs for energy, which maximizes their respective potential for recovery.*
SUPERFATS also helps to promote natural fat-burning processes in your body so you can stay lean while you build up tons of new muscle.
HOW DOES MUSCLE FUSIOIN NOURISH MUSCLES?
MUSCLE FUSION was designed to help you maintain a continuous nutrient supply for high-powered, dynamic workouts. Firstly, our signature Penta-Stage Amino Acid Enhanced Protein Matrix will release premium protein isolates into your body in timed intervals. To start the process, fast-absorbing, high BV (Biological Value) whey protein isolates will start protein synthesis immediately after your first sip of MUSCLE FUSION. Later on, slower proteins like Micellar Casein will kick in to sustain the anabolic processes developed in your muscles. This sustained anabolic effect is also aided by an additional dosage of BCAAs and aminos.
MUSCLE FUSION also helps to maintain a steady, prolonged supply of glycogen by balancing glucose and insulin levels through a fast and slow absorbing carb matrix. With complex carbs like organic oat bran, organic oat fiber, and organic flaxseed powder, this matrix produces a gradual release of energy that will keep your stamina at a consistent level and help ensure that you aren't hitting the wall prematurely.
Lastly, SUPERFATS has also been added to MUSCLE FUSION, and contributes by maximizing carb and protein functions by supplying extra energy for consumption. This advanced lipid complex also helps to promote natural fat-loss.*
100% PURE WHEY MATRIX
20G
PROTEIN
5G
CARBS
1G
FAT
120
CALORIES
Instant
ANABOLIC EFFECT
$
COST
MICROFILTERED WHEY ISOLATE
WHEY CONCENTRATE
CARB ENRICHED MATRIX
21G
PROTEIN
14G
CARBS
3G
FAT
164
CALORIES
Sustained
ANABOLIC EFFECT
$$
COST
WHEY HYDROLYSATE
MICROFILTERED WHEY ISOLATE
MICELLAR CASEIN
MILK PROTEIN ISOLATE
WHEY CONCENTRATE
ORGANIC OAT BRAN & FIBRE
SUPERFATS
100% PURE TRIPLE ISOLATE
25G
PROTEIN
3G
CARBS
1.5G
FAT
120
CALORIES
Sustained
ANABOLIC EFFECT
$$$
COST
MICROFILTERED WHEY ISOLATE
EGG PROTEIN ISOLATE
WHEY CONCENTRATE
MICELLAR CASEIN
SUPERFATS